2004
You are browsing the archive for 2004.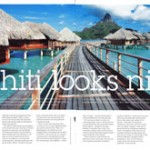 By Marion on December 1, 2004
I've had a long fascination with Bora Bora:- the promise of the exotic; a lush island hemmed by a lagoon; even the way its sounds. That this exotic isle lies, way out there in the ocean, somewhere between Sydney and LA, has always struck me as both impossibly alluring and possibly convenient. "Next time", I've promised myself on those endless flights across the Pacific; "Next time, we'll stop over". So this time, we did.
Posted in 5. Travel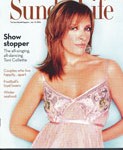 By Marion on July 1, 2004
Toni Collette is grinning again after a decade of haunted, hunted and downright dowdy characters. She tells Marion Hume why getting older makes her feel beautiful and why she's eager for "an open ended life".
Posted in 4. People | Leave a response