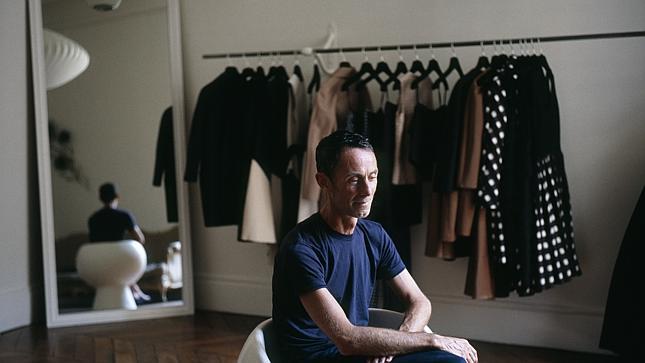 His Qantas uniforms are French chic but in his adopted home, Martin Grant is not known as an Australian designer.
Natural light floods in through windows that rise almost from the floor to the ceiling. The glorious parquet has an aged patina that only a few centuries of old-world France can achieve. Martin Grant's studios are in a beautiful building in the Haut Marais – which is to say, the chic, residential Paris neighbourhood north of where the tourists go. It's the kind of place that connections, rather than money, allow you to lease. Located two floors up, his salons are accessorised with well-chosen antiques: an 18th-century bergere sofa upholstered in tea-toned linen; a 1970s wall sculpture. Glimpsed through doors are seamstresses skilled at "le flou" drape and the perfect set of a sleeve; through the windows is a view across one of those chichi courtyards.
This is just the sort of place a young lad might visualise while growing up in Melbourne and dreaming of Paris. Except in truth, Grant dreamed of London. He reached it, too, when 23 years ago he was offered a job across the channel. The menswear company that the then 25-year-old moved to Paris to join closed after only two seasons. He stayed.
Grant is a fashion designer, which means he is far beyond a dressmaker, yet not a brand. He has little interest in slapping his name on things for the sake of it. And being naturally quiet, although not shy – he takes a bow at the end of his shows, please don't imagine he's hiding in the fire exit – he has no wish to spend his time spruiking. Hence no perfume, no jeans produced under licence. That business model may have worked spectacularly for others but Grant is well aware that the world, even the Fashion First World, does not need another designer attempting to launch an It bag.
"I'm quite specific about not wanting to take anything else on, because I want to concentrate on what I do here," he says as we sit down for tea and macarons. He gestures to the racks, on which hang five options for the perfect coat, three for the cocktail dress, a small yet satisfying collection of daywear, a few options for gowns.
His clientele is as chic as it gets, even by French standards. The Martin Grant label is revered, quietly, among women who matter not chatter. His poster girl is the slender octogenarian Lee Radziwill, sister of the late Jackie Kennedy, sister-in-law of Jack and one of Truman Capote's "swans", renowned as the best-dressed American in Paris. Grant does not discuss who wears his creations, the hallmark of which is impeccable simplicity in sumptuous fabrics. It is Radziwill who gives the game away when she sits in his front row.
There are the movie stars, often French and spied at Cannes rather than the Oscars, along with international professional women, some of whom – telling, this – work high up in the business of luxury goods. Many Paris-based fashion insiders wear Martin Grant, whose nationality is barely mentioned. He is viewed not as an Australian designer in Paris, but a Paris designer who happens, incidentally, to be Australian. There's a critical difference. Think Lanvin's Alber Elbaz, a Moroccan who came to Paris via Tel Aviv, or for a historical example, Elsa Schiaparelli, Italian yet quintessentially of the City of Light.
WANTED TO KEEP IT INDEPENDENT
For those interested in the bottom line as much as the line of a dress, here is a company that carries no debt. Who owns it? "I do," says Grant.
"It surprises those who have approached me that there are no loans. I've had many offers to be bought out, to be integrated but I've always wanted to keep it independent."
He has reached this point one dress at a time, then two, growing to a robust business of four ready-to-wear collections a year. The biggest markets for his timeless, unadorned pieces are the US, then Japan and the Middle East. In Australia, he sells to David Jones and to the one-of-a-kind Christine boutique in Melbourne.
At a notch higher, what some call "demi-couture", the famous – and the not – can make an appointment to visit the studio for a bespoke service in which existing styles are adapted: the sleeves lengthened; the fabrics changed. "For me, it's important to maintain this slightly old-fashioned way of working where there's the eye on everything so it doesn't get lost," Grant says.
Clients book in advance but an email out of the blue is fine and you don't need an existing client to introduce you. A coat adapted to you will cost about 25 per cent more than the ready-to-wear prices, which are north of €1000 ($1430) for a coat, €2500 for a gown.
It's far from the then "bushy" Melbourne suburb of Blackburn where Grant grew up, but there's an echo. His grandmother was a professional dressmaker – "she had incredible training, she'd spent a year doing only sleeves" – from the days when Paris fashions reached Melbourne as prized, licensed paper patterns.
"I used to spend a lot of time with her. She'd be sewing and I'd be sewing," he recalls. Grant taught himself pattern cutting, a skill that fuses mathematics with three-dimensional thinking. Most designers have zero technical competence in this area so outsource it.
Today, Grant works closely with the pattern cutters he employs in-house. Samples and special orders are done at his studio, where there are 10 full-time staff. Production for ready-to-wear pieces is done in France, with Martin Grant the only label made by a high-end factory at Clichy, just beyond the city limits.
GREW UP IN 'GROOVY' HOUSE
He grew up, he realises with hindsight, in "quite a groovy" house, the son of an academic father and a school teacher mother. "The interior was all Scandinavian and Japanese, the house was designed by Robin Boyd and added onto in the 70s by Greg Burgess," he says. His mother dressed in the height of fashion, making herself an Yves Saint Laurent Mondrian dress from a Vogue pattern. He had fun styling his three sisters from a dress-up box full of such cast-offs.
Leaving school at 16, Grant fell in with like-minded Melburnian artists and musicians and was given studio space by designer Desbina Collins, now a masseuse and a Buddhist. Collins, too, lives in Paris these days, and she cooks healthy meals for Grant's team in the run-up to seasonal presentations.
Something of a prodigy with a sewing machine, he built a thriving made-to-measure business while still in his teens. But then he took stock. He realised he was hungry to learn more. So he studied sculpture. Next came the move to London. Then Paris.
As the luxury groups invest widely and tighten their hold on a global business, designers who stand apart and succeed financially are becoming rare. Grant's hands-on skill and gentle charm mean his name comes up pretty much every time there's a vacancy for a designer to sign up to a brand.
He plays this fashion version of musical chairs insomuch as he'll meet with the chief executives – he's too much of a gentleman to say which ones – and have the conversation. But to date, he has always walked away.
As to selling a stake in his company: "I look at options but a little bit from a distance."
While Grant is not "yacht wealthy", he is, by his own talent and toil, what the French call "a l'aise", or comfortable. When pressed – really pressed – he'll say this: "I live comfortably with a healthy company. I own my home but rent the yacht. I have no debts."
Cash flow has been augmented from consultancies. Grant was the designer behind the own-label of American department store Barneys New York for a decade and has worked widely on contracts in Italy. Known on the inside track as the person who could make uniforms chic, he had not worked on a huge scale until the Qantas contract landed.
The consensus among staff, passengers and those who see squadrons of stewards marching through terminals around the globe seems to be that Australia has the smartest uniform in the air. What other airline has a trench coat that civilians keep begging to buy?
'COMPLETELY OFF THE MARK'
Before his QF designs were unveiled in 2013, there was gossip suggesting he felt affronted having to fit hosties with hips. "It was completely off the mark," he counters with a rare show of fire. "One of the most interesting things was the wide span of job descriptions, ages, sizes."
Recognised whenever he boards an A380, he dresses up to fly then changes into Peter Morrissey's iconic flying kangaroo pyjamas. He enjoys one-on-one contact with those who go to work in his clothes. The changes to Grant's uniforms, now they've been tested over hundreds of thousands of miles, have been few; three centimetres added to the length of a top and more advice to staff about choosing the right size.
"One of the check-in staff started saying 'I love the uniform but the flight attendants' jackets fit much better than ours.' It's the same jacket. Others think the dress has to be tight-fitting. It doesn't. You need to get the right size."
The long hops home have rejoined the dots for a man who left in his mid-20s, reconnecting him to Australian contemporary culture. "I've got my old contacts, [yet] working back in Australia changes the way that you relate to it. And I never travelled in Australia. I left young." In the past two years he's been to Hobart, Lord Howe Island, Uluru, Broome. He funds these add-on trips himself, with the long hauls free when he's going to work with Qantas. "They make me as comfortable as they can on the day, always business, sometimes pointier," he says when forced. Bragging is not something Grant could be accused of.
As he reconnects to the nation of his birth, his adopted country is becoming somewhat less romantic – politically, economically, culturally. "Friends are now starting to waft off." Paris can be "almost creepy-beautiful," he says. "But if you are feeling over it, all you have to do is go along the rue Vieille du Temple, straight down to the river and onto the Île Saint-Louis. That fixes it."
His plan is to remain almost-French. But should he ever want to call Australia home again, he knows which airline to call.