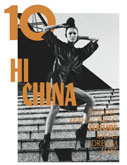 The People's Republic of Luxe
10 Mag | Issue 41 November 2011
When I was a little girl, before you were born, China was the place they made cheap stuff. Now it's the place where all the luxury labels have to have their snazziest stores in the world. When I was a teenager, China remained closed  – they only let them out to scoop up all the medals at the Olympics. Now, of course, if you are in fashion, you have to go there to scoop up your share of an annual consumer expenditure estimated to top 1.3 trillion yuan (about £122 billion) by 2020.
by Marion Hume
And we're not just talking Dior, Chanel, Vuitton. You want a yacht with that handbag? British yacht brand, Sunseeker is out there flogging its Manhattan 73 model for 31.4 million yuan (£3 million). You could toast your purchase with Chateau Lafite 1982 at 445,186 yuan (£42,115) Oh stop fretting, that's for half a case. Did you think anyone would pay that much for a bottle?
When I started work, Hong Kong was the gateway to "Mainland China" as it was known (those in the know call it "the PRC" today). Back when Honkers was still a British colony, you could almost count the grains of rice in people's dinner bowls as the plane swerved around mountains and tower blocks to touch down at Kai Tak, the world's sixth most dangerous airport. Now, the PRC is peppered with super-dooper airports designed by "star-chitects". But China's billionaires don't fly commercial, although some hire rather than own their own Gulfstreams. Price for Beijing-Shanghai return on a Gulfstream G550: 276,500 yuan (£26,157).
From the far south of Guangzhou, where Louis Vuitton has its largest Chinese flagship store, to the the old silk road staging post of Urumqi, the most inland city in the world – yup, they've got a Vuitton there too – China is fashion profit central, even if a recent store renovation is rumoured to have cost Vuitton in the eight digits. The first fashion person I knew who reached "real" China, as in Beijing, was sent by Zara to find a cheap production source. Now, Zara has 70 stores in the PRC.
The first time I went to Beijing, it was to interview newly-successful women, several of whom thought they were wearing designer clothes, but these were funny fake brands that I had never heard of. Then the fake market started to thrive and I seemed to always be clambering through some fat-filled restaurant kitchen, then down a back alley and into a room the size of a toilet pretending to be a customer. The criminal salesmen pretended to believe me as they took photographs of my (real) Fendi Selleria bag. The fake business shows no sign of slowing down as China's love of luxury booms. The new trend is in counterfeiting an entire experience, although who knew there was anywhere on earth that they would welcome a completely fake branch of IKEA?
Even as recently as five years ago, the picture the photographer had to get was the "contrast shot" of the toothless guy parking his bicycle next to the Louis Vuitton superstore in Shanghai. The shoppers within were still so delighted in the newness of being able to express their individuality through fashion, that they would willingly stop and talk to a stranger with a tape recorder, a photographer and a translator. They told such sad stories of their Mao suit years. One shopper never knew her father. When her mother was pregnant, her parents had been sent to the country to be "re-educated" and they locked her father in a shed until he died. Her mother survived eating frogs and birds eggs. Another was once given a yellow silk shirt from abroad, which gave her great joy every time she looked at it – until her mother dyed it brown so she could get the use out of it. That woman – a very powerful woman – started to cry as she remembered that. The power of fashion is powerful indeed.
Now, the bulk of luxury shoppers – and there are more than 200 million young adults under 30 in the PRC – were born after The Cultural Revolution so have not "eaten bitterness" as their parents did. Far from envying their lifestyles, their mothers tend to encourage them. "If I dress a little bit sexy, she thinks I look beautiful," one girl told me when I returned to Beijing in 2008. "I'm the youth she didn't have."
For the luxury tsars, China's love of the new is a great plus. "They don't have a generation before them to refer to style-wise, so they are daring with the choices they make," one CEO told me, eyes ablaze. The rules are still being written in this high profit battle ground. Beijinger and Shanghainese girls like to write off those from the "second tier cities" as bumpkins who have just learned to say Vuitton, but that doesn't stop those in cities you've hardly heard wanting designer bags. No surprise then that as well as opening stores everywhere,  the likes of Chloe now have Chinese language blogs. Faye Wong, a Chinese singer and actress, does print campaigns for Céline. One of Louis Vuitton's male models is Taiwanese-Canadian actor and model Godfrey Gao. No prizes for guessing (beyond those gorgeous cheekbones) why he got the gig.
It might be hard to believe this now, but British designers used to quake in their boots when the American department stores came calling. China is expected to be the second-largest consumer market in the world by 2015 and if the USA doesn't pull its economy out of tailspin, it could come sooner. Guess which buyers get the champers and the Rose Bakery cupcakes these days? But forget any cliches about Chinese shoppers liking the logo-a-gogo stuff. The level of sophistication is obvious when you walk past racks of Vanessa Bruno, Maison Martin Margiela, Rick Owens at the Lane Crawford department store in Beijing.
A year ago, I got a call from Francois-Henri Pinault's office. Would I like to join him on a trip to 10 Chinese cities, few of which I had actually heard of (and I'm up on Beijing, Shanghai, Shenyang, Hangzhou, Chengdu, Dalian…)? Alas, I was in a diamond mine in Australia (key global market for Tiffany? Yes, you got that one too) so had to pass on the PPR titan's tempting invite, but I did once interview Pinault's rival, Bernard Arnault of LVMH, in a penthouse suite in Beijing. Trying to get to Arnault, both the richest man in fashion and the richest man in France, when you are actually in France is well-nigh impossible. Yet in China, he was as relaxed and warm as a chilly billionaire can be, although he was probably totting up what you get when even 0.001% of a population headed towards 1.35 billion people wants Dior.
But you should never count your Chinese chickens. When Arnault's mate President Sarkozy said he would be meeting the Dalai Lama (do, please Google exactly why Richard Gere is so passionate about Tibet), the Chinese ambassador in Paris apparently had the luxury titan quaking in his handmade Berlotti shoes at the thought of Chinese Vuitton customers asking for their money back.
Those customers get wooed. Last year it was the Dior extravaganza staged on the Bund in Shanghai; there was the "Culture Chanel" exhibition, the Fendi's show on the Great Wall and the Ferragamo show within the Forbidden City. But it is not just about wooing the girls. One of the glories of modern China, if you are a luxury tycoon, is this is one of the few markets where men outdo women in their regard of expensive designer goods as trophies of success. Good news for Dunhill and Hugo Boss,
You can't keep up with who is opening, who is expanding where. There's Burberry's upcoming Hong Kong megastore which promises to be a smart shopping destination for an annual 23 million Chinese tourists who come to town. Niche brands like Moncler are making a splash in Beijing, Miu Miu is expanding in Shanghai – the list goes on.
Susan Owens is a China expert whose blog, Paris Cherie, links the world of Paris fashion to Shanghai. She admits she can hardly post content up fast enough or keep track of the Western brands keen to snap up the services of Shanghai model, Du Juan.
What the Chinese luxury consumer is not madly interested in – up to now – is the vast nation's sartorial past. "There's no vintage—Chinese don't wear old clothes," someone told me. Hello Ralph Lauren, who visited China last year. Cue an autumn-winter 2011 collection of cheongsams inspired by the old silk road. When Ralph Lauren opened his first stores in Britain, back when Princess Diana was young, few thought his coals-to-Newcastle – or more precisely chintz-to-Downton Abbey -offering would work in a land where some people actually owned family silver. How wrong we were so expect to see fashion folk in the PCR dressing "Chinese"
Coming soon, more homegrown designers, more competition. And I leave you with this. In 1997, I was editing Vogue Australia, which meant I was "Asia Pacific" on the Paris show seating plans and thus in the worst seats in the house. Around me would be the first few fashion editors from the PRC. Where are they now? Locate Suzy Menkes and track along a couple of chairs, that's where. All power to China.