By admin on December 1, 2012
Sometimes an adventure beckons and you have to follow the lead. When an interview was relocated from New York to Prague, I was thrilled, given I haven't been to the Czech Republic since it was Czechoslovakia. I looked forward to going again to the mighty Prague castle, to walking the span of the historic Charles Bridge.
But then a half-lost nugget of something began to niggle. When, recently, had there been mention of something Czech? I realized it was a few weeks before, in Kenya, when I was watching Maasai women working their magic on a range of bags for Myer, including designs by Karen Walker, Fleur Wood and Jayson Brunsdon.
Posted in 6. Columns | Tagged AFR, column
By admin on November 6, 2012
Paris in the sunlight. As my taxi slows in traffic near the Hotel de Ville, I am once again convinced of the existence of a secret agency of the French government, or perhaps a hidden team within the offices of the mayor. Their mission? To hire gorgeous young people and send them out on the streets to kiss, thus maintaining a worldwide reputation for romance.
Posted in 6. Columns | Tagged AFR, column, Paris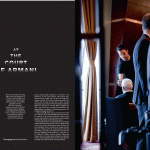 By Marion on October 8, 2012
Back in ancient China, it was believed that a man carried the creature of his birth year forever in his heart. Of all the animals in the 12-year cycle of the Shengxiao zodiac, the dog is the most determined. There is no need to ask Giorgio Armani if that is true of him. In 1975, he started a business with cash from selling a car. In 2011 alone, that business achieved a total turnover, including licensed products at retail value, of €6.73 billion ($7.9 billion). The dog is stubborn. When Sergio Galeotti, who was Armani's partner in business and life, died in 1985, Armani expanded when expected to retreat and runs everything at one of the world's most recognised brands.
Posted in 1. Designers | Tagged AFR, Armani, China, Giorgio Armani