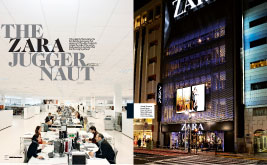 The Zara Juggernaut
AFR Magazine | April 2o11
by Marion Hume
Spain's remote corners are good at revolutions, from the gastrenomic one that began at a Catalonian country restaurant called El Bulli, to the fast-fashion phenomenon that sprang from the wilds of Galicia to conquer the malls of the world.
Given I have travelled across Europe to discuss a miracle, how fitting that the man I've come to meet is called Jesus. My pilgrimage has taken me to Spain's North West, to Galicia, which is as far as you can go from the castanet cliche of the sun-backed south. For this is not the Costa del Sol, but the Costa del Muerte, the coast of death. At the very tip of the landmass, clinging like a barnacle to a rock and battered by sea spray, sits the little city of Coruna and just beyond it, along the rugged coast, Arteixo, a town of just 5,000 souls. Yet it is here that a global fashion phenomenon is headquartered.
If you track the markets, you may know of Inditex, which has experienced the kind of growth that makes you wish you could turn back time to the March 2001 IPO and scoop up some of the 40% equity floated on the Madrid Stock Exchange (60% remains with the founding family). Inditex, born in the late 1960s on an investment of just 30 euros (yes, E30, or 5,000 pesetas as it was in the old money) is now worth more than E 32 billion ($44 billion). So I'm looking forward to asking a man called Jesus Echevarria, the chief spokesman for the company, how that happened.
But first, I need to find him. The taxi arrives at a huge industrial estate. Sorry, what was that? Reception is across that courtyard, then down into the underground car park? When that turns out to be correct, the message is clear: no unannounced callers welcome here. Next, I take the lift up to reception, where a young woman in a headset greets me, then escorts me into a glass-sided lift. We rise up through blank, shiny floors that give no clue as to what happens here and then I wait alone in a boardroom, long enough to gaze out the window and realise that every 30 seconds, another huge truck pulls out from the loading bay down below and drives away.
"Hello! Sorry to keep you waiting. Coffee? I am Jesus," says a man in a suit, bearing what is, in Spain, a relatively common name. He's going to tell me more about a name that's also pretty common, wherever you live in the world. If Inditex, which stands for Industria de Disena Textil might not mean much, have you ever heard of Zara? In the unlikely event you have not, brace yourself. The global fast fashion force is, at last, coming to Australia this month, a full decade after company scouts began arriving to study locations and logistics. The brand will open two stores, the first in Westfield Sydney with Melbourne to follow. "Thank God we won't be a third world fashion country any more," is how one Sydney fashion fanatic puts it.
Inditex is probably the biggest fashion company in the world; probably, because it depends on how you measure (there are mega retailers that sell lots of everything, including clothes, although this may not count as fashion). Inditex sells 700 million units per year globally. Within the empire, Zara is by far the most dominant brand (63.8%) and its sales for 2009 (the last full year available) were E7,077 millions. In 2005, Inditex overtook the Swedish fashion giant, Hennes & Mauritz (H&M); in 2008, it overtook the US one, Gap. Of the more than 5,000 stores Inditex has around the world about 1,700 of them are Zara boutiques. The parent company employs over 100,000 people belonging to more than 140 different nationalities.
The Zara name includes womenswear, menswear, children's wear, homeware, accessories, perfume and now, zara.com. Yet the other Inditex brands are hardly tiddlers. These comprise Pull & Bear, Massimo Dutti, Bershka, Stradivarius, Oysho and Uterque, are names which don't exactly trip off the tongue, but each does significant business around the world. Uterque for instance has some 80 stores in 16 countries. though heaven knows how people pronounce the names in any of them. In contrast, the name Zara works brilliantly because it is pronounced the same in every language bar one. (Ironically, that one is Spanish, where it is pronounced "Tha-ra").
The choice of this convenient four letter word is however entirely accidental. Back in the '60s, the son of a railwayman called Amancio Ortega teamed up with his brother and his brother's wife and started a business manufacturing shirts and nightwear (the best seller was a pink bathrobe for women). The wholesale business boomed and, in what would prove a turning point, Ortega realised that control, though at this time, not necessarily easy money- lay in owning stores in order to oversee the complete vertical process.
Had the company remained a manufacturer, it would doubtless be out of business today, as others have pulled production out of Spain in search of cheaper deals in Bulgaria, Romania and beyond. Instead, in 1975, Ortega opened a little shop in La Coruna  – it is still there today – and decided to call it Zorba, as in Zorba the Greek. But the owner of a nearby bar of the same name saw the signage go up he protested. Ortega agreed to change it but, because you need costly moulds to make three dimensional store front lettering, he needed a name which could be made in the moulds already cast. So they repeated the "a" and Zara was born.
You are not about to meet  Amancio Ortega, because the 75-year-old founder has never given an interview. Thus the 9th richest man in the world is far less known than those who sit above him on the Forbes rich list, such as the Mexican telecom titan, Carlos Slim Helu, Americans Bill Gates, Warren Buffet and Larry Ellison, the steel magnet Lakshmi Mittal and LVMH's Bernard Arnault. Before the internet and camera phones, Amancio Ortega was never even knowingly photographed, but then a few pictures appeared online and now Inditex provides an official portrait. Apparently, there's no mystery  about why this twice married father of three doesn't speak in public, he just doesn't chose to. He didn't even show for the Inditex IPO.
Although it has just been announced that he will move aside at the shareholders' meeting in July 2011 and the current second-in-command, Pablo Isla Alverez de Tajera, will become both chairman and Chief Executive, Isla is unlikely to be much more available. "He does speak twice a year, at the AGM and the shareholders' meeting. But no, we don't expect him to do more," says Echevarria, who remains the only company voice. So what is the secret of success? ""Maybe because we are on the edge, not at a crossroads," he says. "We are here alone, which allows us to concentrate. But there's more."
A silent CEO is just one of the many ways in which one of the world's most dynamic fashion forces is different. This is a story of going zig when others go zag. Beyond the obscure location on the edge of the Atlantic, and the odd fact that Zara spends almost nothing on advertising (most fashion brands factor in  a minimum of 4% of turnover a year), nothing Zara actually does is done how others do it, to the point that the company became a subject of a Harvard Business School study which could be titled "Doing everything upside down." (In fact it is called something so boring, such as "Inditex case study," that I didn't write it down).
Most fashion companies work like this; there are the designers. They design. There is a show. Meanwhile fabric is ordered for those designs, takes ages to arrive and then factories start to make the designs; the designs are advertised and the customer goes into the store to find them. At Zara, however, the customer goes into the store, sees a white jacket and says she'd prefer it in cream. If a couple more customers do that, two weeks' later (perhaps less) there it is. The store is the centre piece and constant drops of new fashion to keep the customer coming back to see what's new.
There is no Zara "style", instead there a multiple styles, all of which disappear fast, so you won't find everyone else wearing them. If a look doesn't sell, it is pulled. There is , however, an innate Spanishness, which is to say, Spanish women, whether Castilian from Madrid or Catalunyan from Barcelona or Galician from Coruna, tend to have a proud bearing which they want flattered by tailoring; thus Zara's jackets tend to be somewhat sexier, curvier of cut than others at these prices.
Because the vast geographical spread of the 5,000 Zara stores, a small production run is 30,000 pieces, leading to both economies of scale and the guarantee that hardly anyone you will ever bump into will have what you have. Stores order twice a week and the logistics that make that possible are astonishing (Think factory floors the size of way too many soccer pitches, full of clothing items flying around on tracks suspended from the ceiling and then ending up in specific cardboard boxes on which the store destination is already encoded. Those working in the warehouses move about by bicycle because the distances are so huge.)
As to why it has taken Zara so long to enter the Australian market, the company has been studying it for some time.  "For Australia, we had to be convinced we could give our excellent service to a customer in the Southern Hemisphere," Echevarria says. "We have 250 womenswear designers specifically thinking of the Northern Hemisphere and then the others of Argentina, Brazil, Chile, Uruguay, where of course we have shared heritage and language (as for Brazil, Galego, the regional language of Galicia, has similarities with Portuguese). We knew we couldn't do last season's clothes later for Australia, so we have been sending the design teams many times so they know what will work and at the right moment. It has taken us a long time to be ready because we are Zara and we know people expect us to get it right."
Fashion folk love Zara, for its style and its speed. (From factory to store in 48 hours and the aim is to do that even for Australia). For those of us who like to poke our noses into company CSR (corporate social responsibility), Zara and parent company Inditex are popular too.
More than 50% of its offering, comprising most of its fast-fashion pieces, are made in factories it owns in Spain meaning it can guard against the kind of scary labour practices that haunt fast fashion. But as with all fast fashion (not specifically Inditex), once offshore, things are harder to police, this compounded by shoppers having come to expect low prices. Generally, campaigners and trade unions are alarmed at the cost of workers of a decade of deflation in clothing prices. But all Inditex's 1,237 contracted suppliers are governed by the company's External Manufacturers and Workshops Code of Conduct and it has also forged strong partnerships with international union bodies.
As to its eco friendliness, the message at HQ is demonstrated by a vast wind turbine soaring overhead. Being fortuitously positioned in a place that is both windy and sunny means much of the energy needs can be generated on the spot. In addition, Echevarria in intent on showing me how energy that would otherwise leech out and be lost has been redirected into the steamers that iron every garment. He is especially proud of the battered state of the cardboard boxes packed with goods for stores all over the world. These are reused and reused before being eventually recycled, he tells me.
Commendably Zara has gone far with its store design. Not only does every store turn its lights off for Earth Day,  the latest opening, in Rome, aims to be the first ever fashion store to achieve the platinum standard certification, a seal of sustainable architecture that is one of the most demanding of its kind in the world. The company is working to make all stores eco efficient and older sites are being retrofitted. Echevarria is reluctant to let me take away a CSR report because it runs to 311 pages and this company hates to consume paper. Plastic bags are oxo biodegradable, meaning they break down to a small amount of biomass within two years, while traditional plastic bags take more than 400.
By studying the small print of  the 22 pages concerning Inditex and society, I learn that the company has made emergency gifts in the multimillions in response to the earthquakes in Haiti and Sumatra,  multiple gifts (of hundreds of thousands of Euro) to community and NGO projects in Cambodia, Morocco, Mali and beyond and that it builds some of its Spanish stores under its "for&from" project, which aims to make it possible for those with severe mental disabilities to join the workforce. So far, so good.
Where Zara does raise ire is when it comes to design, as in its appropriation of other people's ideas. The model is only possible because both the design team and the customer is strongly inspired by the creation of others- who are neither acknowledged nor paid. While the likes of Topshop have overcome this criticism by supporting both London Fashion Week and British designers from deep pockets and H&M does high profile hi-lo collaborations with designers-most recently with Alber Elbaz of Lanvin- Zara does not.
Hussein Chalayan is just one originator who has seen the result of hours and hours of his labour hanging with a Zara label. Not that the fast fashion shopper, looking for something fabulous at a good price, cares a hoot. In the past, some designers actually used to be happy about Zara using their designs. Before the internet put every style on instant view, Inditex used to send teams around the world with a shopping spend that was legendary. I know of one French fashion label that used to factor in the Zara spend, not minding because Zara was mass and they were high end. Otherwise, designers have tended not to take on fast-fashion brands because altering a sleeve or changing a stripe tends to make clothing copyright cases notoriously difficult to prosecute. Not for nothing has Daniel Piette, then the fashion director of Louis Vuitton described Zara as *the most innovative and devastating retailer in the world".
In February, Inditex brand Stradivarius was forced to U-turn after teenage style bloggers complained that images they had posted of themselves online had been reproduced rather too faithfully on the front of T-shirts. "It would have been no problem if they asked me," one blogger told The Guardian. The article suggested that designers working in the vast studios at Inditex may be resorting to the internet to search out images of cool hipsters because of the pressure they are under to hit targets on the number of designs they produce each day. Zara alone is thought to produce some 40,000 designs a year.
While there's a joke now that there's a Zara opening somewhere every week, it was far from an overnight success. Ortega was 39 before he opened the first store, but after that it was as if he was making up for lost time. Stores opened at a heady pace, first in Spain, then Portugal. Location was always key – indeed the only Zara store not in a prime location is the first. The company launched itself in the US at a site bang opposite Bloomingdales on Lexington Avenue in 1989 and then on rue du Rivoli Paris in 1990.
The big question though- once Sydney and Melbourne are trading, once other sites across Australia are ear-marked for the Inditex brands as is also happening in South Africa- is where next.  There are already more than 150 Inditex stores in China. Central and South America are conquered and the company has posted its flag all over South East Asia. But once New Zealand gets Zara (no plans yet revealed) where else is left? Especially as the global shopper can go to zara.com?
The answer may well be hidden away in a secret bunker in one of the vast buildings at Arteixo. Echevarria escorts me past extra security and then we walk into a vast empty space, with a heavy industrial curtain to the rear. He pulls it back enough for us to pass through and there is a whole Inditex street, of fully kitted out stores, none like you have seen before,  including a whole new look for Zara women and Zara mens (think "more like Prada" and "more like Gucci" respectively).
But I suspect there is more. The night before my official meeting at Inditex, I have met up with an old friend who has connections deep inside the company. "There's something completely new," she tells me. So will the empire keep up the march, with another concept entirely. Tantalizingly, at the end of the secret Inditex street, there's another curtain, but Echevarria steers me away. "We are thinking all the time of new concepts," he says. But can't he tell me more, given I have come all this, way? "We are always thinking," he says, then adds "lunch?". This being Spain, it's past 3pm and I am, it has to be said, ravenously hungry. So Jesus and I head off for bread and fish and wine, Galician style. Whatever might be the next miracle, for now must stay  a secret.