Tag Archives: Yohji Yamamoto
Sunday Telegraph Fashion Magazine | 20th March 2o11
Yohji Yamamoto
by Marion Hume
The question is not why is Yohji Yamamoto the subject of a major fashion retrospective at the V&A this spring, but what took so long?
For it is now 30 years since Yohji (always called Yohji, not Yamamoto by fashion insiders), along with Rei Kawakubo of Comme des Garcons, stormed the bastions of French fashion. It was shocking.
To say one is "shocked" can be used casually in fashion-speak these days. But in March 1981, the front row set were truly appalled. They were, already, in a jumpy mood before the first Yohji Yamamoto show began.  The chill wind of President Mitterand's newly elected socialist regime was blowing through the silken corridors of Paris fashion, where the motto is rarely Liberte, Egalite, Fraternite, but at least they expected to be on somewhat familar ground, to see more of the coquettish frills and furbelows of the likes of Valentino and Ungaro. Instead what they were confronted with was oversized, flawed, monochromatic, flat-heeled, gender neutral, asymmetrical, shabby looking clothes.  "Is there a "yellow peril" on the horizon?" thundered  Le Figaro. Not a line one could get away with now.
While the first to be accused of "Holocaust chic", Yohji Yamamoto and Rei Kawakubo were not the first Japanese designers on the Paris fashion scene. Hanae Mori had established a gracious reputation for neat little suits, Kenzo had made his Jungle Jap shows into extravaganzas, Issey Miyake had been showing in Paris since 1973. But the storm caused by Yamamoto and Kawakubo didn't die down, it got more fierce. By 1983, Le Figaro was still raging. telling readers,  "this miserable-ism is not for you. Neither are these patched garments, nor these new rags, nor these fabrics tied hastily as tatters. Nor all this funereal black. Nor the livid make-up of decomposed women. A snobbism of rags that  presents the future in a bad way."
From the beginning, the British were more curious. Joan Burstein of Browns and the late Joseph Ettedgui of Joseph were quick to see the possibilities of the new wave. (Browns landed Comme des Garcons, the Joseph stores carried Yohji). British fashion students, who back then would travel by coach and ferry to Paris and beg, borrow or steal tickets to shows, were also early fans. Some recall finding their way to Yohji's Paris studio after the first show and being shown textures and shapes completely new to the West. British Vogue also soon realised this was the aesthetic of the future, praising the designers of the "International East" "for their noblesse oblique, thunderstruck colour, marvellous new manipulations of print and texture."
Part of the savagery of the initial reaction from the old guard must be attributed to the prejudice of those just one generation away from war. As for Yohji Yamamoto himself, he is defined by the circumstances of his birth, to a widowed mother, who would work 16 hours a day to raise him. In 1987, he said this in an interview with Sally Brampton, then one of the UK's leading fashion scribes, now an agony aunt;  "The reason my clothes (are the way they are) is because I have given up, because I desire nothing. Some people try to relate that to Buddhism but it has nothing to do with it. It is hard to appreciate what I say unless you were born in Tokyo in 1943 when the war was destroying everything. Success came just by chance. I never wanted anything. Like most of my generation  in Japan, I didn't want to do anything or be anyone, so I started to help my mother in her dress shop. I hated it."
A lifelong love of rock n roll might seem to sound a lighter note (and led to a bizarre show where male models walked to "Ain't Nothing but a Hound Dog" played on a bazooka), yet Yohji himself has been somber about  "Americanization."  "We were fed American products but at a certain age you start realizing things. The problem was, who are the Japanese people?" he has said. "It is very difficult, even for us, to find out".
Yet as time has gone on, Yohji has also, brilliantly and surprisingly, explored the aesthetic of Paris, where he sets up home for weeks every season (his mother comes too, to cook for him). Having first fought against the richness of haute couture, latterly he has subverted it. Who can forget Yohji's catwalk bride with a gown so huge it swept the notebooks off the laps of those in the front row?
For all the memorable catwalk sensations, most of  Yohji's creations are rather plain, often navy and in industrial gaberdine which makes them seasonless. The same women who would not be seen dead in last season's Prada happily boast of wearing "20 year old Yohji", which explains why there is so little trade in Yohjis on the vintage market.
What his clothes have always explored is feminism. Never interested in coquettish appeal,  his woman is always strong, although as he has concurred, "Most men do not like strong, independent women with their feet on the ground. Men don't want women to be outstanding…. When women try to be real people there is tremendous pressure against them. I'd like to say hang on, keep trying."
To do so, wearing timeless Yohji is a pleasure.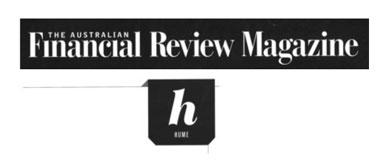 It seems Australians were among the rare few who were not 'frightened' or 'shocked' by the radical ideas of Yohji of Yamamoto and Rei Kawakubo of Comme des Garçons.
Belinda Seper is one of the most respected fashion retailers in Australia. Before her retail career, she was a model, which overlapped with being a soldier. While an unusual career arc, it's is no more unusual than a fashion editor I know who doubles as a trapeze artist or the chef in my local café who is also an acrobat. Small and lean, he moves with the feline grace of someone you imagine, yes, could manage back flips while up on a high wire although, personally, I have never seen him doing anything more complicated than flip a steak while frying an egg. As for Seper, early multitasking involved stripping back a weapon while applying nail lacquer. (Ok, I've exaggerated. She used to do one, then the other. But that doesn't take away from the fact she was the fastest shot in her battalion. And had the best manicure.)
One of my most valuable life lessons came from Seper, who once shared her motto, 'Never forget the six Ps'. These spell out 'Prior Planning Prevents a Piss Poor Performance'. I have to say, had I learned that motto from a puritan American and it had been the five Ps, it would not have stuck. Right now, I am grappling with the eight Ps, which might be familiar to you; 'Prior Planning Prevents a Piss Poor Powerpoint Performance'. What a lot of prep to find 87 images to back up a 45 minute speech! Especially as I never actually said yes to this. (Didn't it start as a panel discussion and just chatting for a few minutes?).
The subject is the arrival in Europe of the Japanese designers, which I am a little too young to remember personally. However, having read all the contemporary reports from the early eighties, it seems the Australians were among the rare few who were not 'frightened' or 'shocked' by the radical ideas of Yohji Yamamoto and Rei Kawakubo of Comme des Garçons. I can find no Australian reports urging readers to run for the hills, or indeed the bunkers. The French talked of the invasion of the 'yellow peril' and judged the debuts of two designers who have turned out to be among the greatest of the last quarter century as "Hiroshima, sans amour".
There will be Q&A afterwards, so I am trying to be super­prepared, although that will probably translate as staying up all night and then not having time to have my roots done. As a rule, which alas I always seem to break, fashion people are groomed, immaculate. But, until recently, the best you'd expect of many of them as public speakers was that they'd hide behind the lectern, mumble a bit, then slink off stage. But media training has changed the game irrevocably – to the benefit of all.
I was at the International Herald Tribune's Luxury conference in London recently (it's in Sao Paolo next year – exciting!), and not only were all the thousand or so delegates chic, but the immaculate speakers – designers and CEOs – gave precisely calibrated performances, never straying off brand message. They were all way too prepared to risk falling off the tightrope.
Bar one. Paul Smith, the British menswear designer, spoke off the cuff (he had a few slides, but they got muddled). He said that his failsafe for public speaking is to bring a rubber chicken, which he then pulled out and brought the house down. So I'm thinking, what if the laptop fizzles or the audience react like the French in 1981 and, at the sight of a tattered dress, duck for cover? Although I realized I was taking the eight Ps too far when I caught myself eyeing up a friend's new kitten and wondering where they kept the travel basket so that, if the speech goes belly­up, I can let the cat of out of the bag.
International fashion editor Marion Hume is based in London.