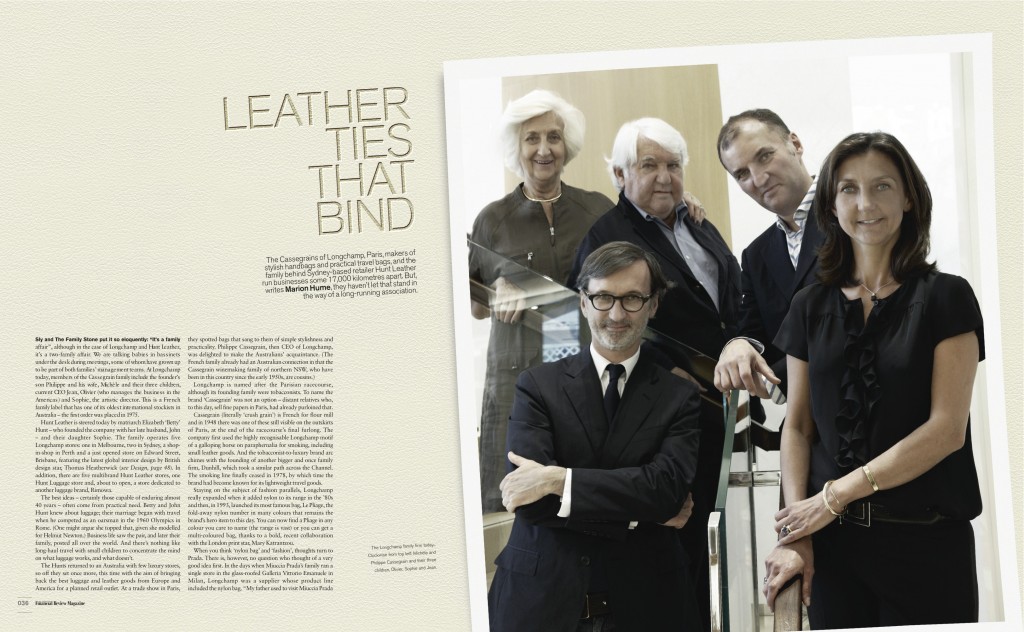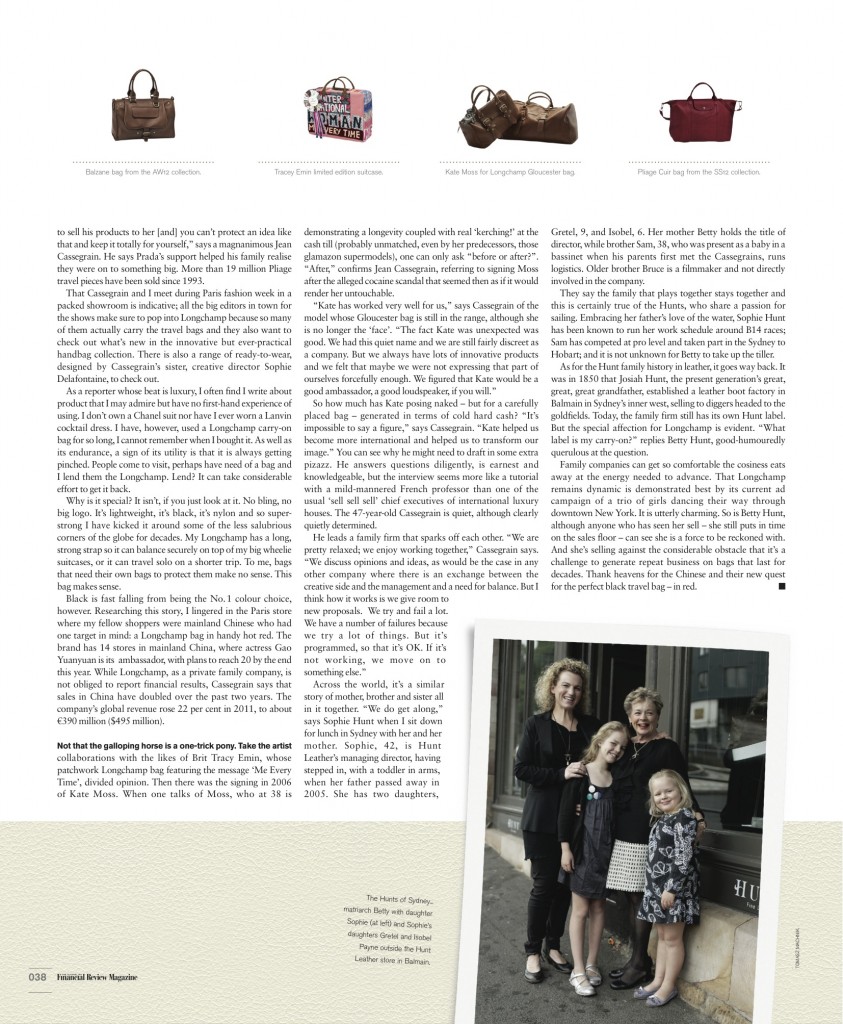 Leather Ties That Bind
The Cassegrains of Longchamp, Paris, makers of stylish handbags and practical travel bags, and the family behind Sydney­ based retailer Hunt Leather run businesses some 17,000 kilometres apart. But, writes Marion Hume, they haven't let that stand in the way of a long­ running association.
The Australian Financial Review | September 2012
by Marion Hume
Sly and The Family Stone put it so eloquently: "It's a family affair", although in the case of Longchamp and Hunt Leather, it's a two ­family affair. We are talking babies in bassinets under the desk during meetings, some of whom have grown up to be part of both families' management teams. At Longchamp today, members of the Cassegrain family include the founder's son Philippe and his wife, Michèle and their three children, current CEO Jean, Olivier (who manages the business in the Americas) and Sophie, the artistic director. This is a French family label that has one of its oldest international stockists in Australia – the first order was placed in 1975.
Hunt Leather is steered today by matriarch Elizabeth 'Betty' Hunt– who founded the company with her late husband, John – and their daughter Sophie. The family operates five Longchamp stores: one in Melbourne, two in Sydney, a shop­ in ­shop in Perth and a just opened store on Edward Street, Brisbane, featuring the latest global interior design by British design star, Thomas Heatherwick. In addition, there are five multibrand Hunt Leather stores, one Hunt Luggage store and, about to open, a store dedicated to another luggage brand, Rimowa.
The best ideas – certainly those capable of enduring almost 40 years – often come from practical need. Betty and John Hunt knew about luggage; their marriage began with travel when he competed as an oarsman in the 1960 Olympics in Rome. (One might argue she topped that, given she modelled for Helmut Newton.) Business life saw the pair, and later their family, posted all over the world. And there's nothing like long­haul travel with small children to concentrate the mind on what luggage works, and what doesn't.
The Hunts returned to an Australia with few luxury stores, so off they set once more, this time with the aim of bringing back the best luggage and leather goods from Europe and America for a planned retail outlet. At a trade show in Paris, they spotted bags that sang to them of simple stylishness and practicality. Philippe Cassegrain, then CEO of Longchamp, was delighted to make the Australians' acquaintance. (The French family already had an Australian connection in that the Cassegrain winemaking family of northern NSW, who have been in this country since the early 1950s, are cousins.)
Longchamp is named after the Parisian racecourse, although its founding family were tobacconists. To name the brand 'Cassegrain' was not an option – distant relatives who, to this day, sell fine papers in Paris, had already purloined that. Cassegrain (literally 'crush grain') is French for flour mill and in 1948 there was one of these still visible on the outskirts of Paris, at the end of the racecourse's final furlong. The company first used the highly recognisable Longchamp motif of a galloping horse on paraphernalia for smoking, including small leather goods. And the tobacconist ­to ­luxury brand arc chimes with the founding of another bigger and once family firm, Dunhill, which took a similar path across the Channel.
The smoking line finally ceased in 1978, by which time the brand had become known for its lightweight travel goods. Staying on the subject of fashion parallels, Longchamp really expanded when it added nylon to its range in the '80s and then, in 1993, launched its most famous bag, Le Pliage, the fold­away nylon number in many colours that remains the brand's hero item to this day. You can now find a Pliage in any colour you care to name (the range is vast) or you can get a multi­coloured bag, thanks to a bold, recent collaboration with the London print star, Mary Katrantzou.
When you think 'nylon bag' and 'fashion', thoughts turn to Prada. There is, however, no question who thought of a very good idea first. In the days when Miuccia Prada's family ran a single store in the glass­roofed Galleria Vittorio Emanuele in Milan, Longchamp was a supplier whose product line included the nylon bag. "My father used to visit Miuccia Prada to sell his products to her [and] you can't protect an idea like that and keep it totally for yourself," says a magnanimous Jean Cassegrain. He says Prada's support helped his family realise they were on to something big. More than 19 million Pliage travel pieces have been sold since 1993.
That Cassegrain and I meet during Paris fashion week in a packed showroom is indicative; all the big editors in town for the shows make sure to pop into Longchamp because so many of them actually carry the travel bags and they also want to check out what's new in the innovative but ever ­practical handbag collection. There is also a range of ready­ to ­wear, designed by Cassegrain's sister, creative director Sophie Delafontaine, to check out.
As a reporter whose beat is luxury, I often find I write about product that I may admire but have no first­ hand experience of using. I don't own a Chanel suit nor have I ever worn a Lanvin cocktail dress. I have, however, used a Longchamp carry ­on bag for so long, I cannot remember when I bought it. As well as its endurance, a sign of its utility is that it is always getting pinched. People come to visit, perhaps have need of a bag and I lend them the Longchamp. Lend? It can take considerable effort to get it back.
Why is it special? It isn't, if you just look at it. No bling, no big logo. It's lightweight, it's black, it's nylon and so super­ strong I have kicked it around some of the less salubrious corners of the globe for decades. My Longchamp has a long, strong strap so it can balance securely on top of my big wheelie suitcases, or it can travel solo on a shorter trip. To me, bags that need their own bags to protect them make no sense. This bag makes sense.
Black is fast falling from being the No.1 colour choice, however. Researching this story, I lingered in the Paris store where my fellow shoppers were mainland Chinese who had one target in mind: a Longchamp bag in handy hot red. The brand has 14 stores in mainland China, where actress Gao Yuanyuanis its ambassador, with plans to reach 20 by the end this year. While Longchamp, as a private family company, is not obliged to report financial results, Cassegrain says that sales in China have doubled over the past two years. The company's global revenue rose 22 per cent in 2011, to about €390 million ($495 million).
Not that the galloping horse is a one­trick pony. Take the artist collaborations with the likes of Brit Tracy Emin, whose patchwork Longchamp bag featuring the message 'Me Every Time', divided opinion. Then there was the signing in 2006 of Kate Moss. When one talks of Moss, who at 38 is demonstrating a longevity coupled with real 'kerching!' at the cash till (probably unmatched, even by her predecessors, those glamazon supermodels), one can only ask "before or after?". "After," confirms Jean Cassegrain, referring to signing Moss after the alleged cocaine scandalthat seemed then as if it would render her untouchable.
"Kate has worked very well for us," says Cassegrain of the model whose Gloucester bag is still in the range, although she is no longer the 'face'. "The fact Kate was unexpected was good. We had this quiet name and we are still fairly discreet as a company. But we always have lots of innovative products and we felt that maybe we were not expressing that part of ourselves forcefully enough. We figured that Kate would be a good ambassador, a good loudspeaker, if you will."
So how much has Kate posing naked – but for a carefully placed bag – generated in terms of cold hard cash? "It's impossible to say a figure," says Cassegrain. "Kate helped us become more international and helped us to transform our image." You can see why he might need to draft in some extra pizazz. He answers questions diligently, is earnest and knowledgeable, but the interview seems more like a tutorial with a mild­mannered French professor than one of the usual 'sell sell sell' chief executives of international luxury houses. The 47 ­year ­old Cassegrain is quiet, although clearly quietly determined.
He leads a family firm that sparks off each other. "We are pretty relaxed; we enjoy working together," Cassegrain says. "We discuss opinions and ideas, as would be the case in any other company where there is an exchange between the creative side and the management and a need for balance. But I think how it works is we give room to new proposals. We try and fail a lot. We have a number of failures because we try a lot of things. But it's programmed, so that it's OK. If it's not working, we move on to something else."
Across the world, it's a similar story of mother, brother and sister all in it together. "We do get along," says Sophie Hunt when I sit down for lunch in Sydney with her and her mother. Sophie, 42, is Hunt Leather's managing director, having stepped in, with a toddler in arms, when her father passed away in 2005. She has two daughters, Gretel, 9, and Isobel, 6. Her mother Betty holds the title of director, while brother Sam, 38, who was present as a baby in a bassinet when his parents first met the Cassegrains, runs logistics. Older brother Bruce is a filmmaker and not directly involved in the company.
They say the family that plays together stays together and this is certainly true of the Hunts, who share a passion for sailing. Embracing her father's love of the water, Sophie Hunt has been known to run her work schedule around B14 races; Sam has competed at pro level and taken part in the Sydney to Hobart; and it is not unknown for Betty to take up the tiller.
As for the Hunt family history in leather, it goes way back. It was in 1850 that Josiah Hunt, the present generation's great, great, great grandfather, established a leather boot factory in Balmain in Sydney's inner west, selling to diggers headed to the goldfields. Today, the family firm still has its own Hunt label. But the special affection for Longchamp is evident. "What label is my carry ­on?" replies Betty Hunt, good ­humouredly querulous at the question.
Family companies can get so comfortable the cosiness eats away at the energy needed to advance. That Longchamp remains dynamic is demonstrated best by its current ad campaign of a trio of girls dancing their way through downtown New York. It is utterly charming. So is Betty Hunt, although anyone who has seen her sell – she still puts in time on the sales floor – can see she is a force to be reckoned with.
And she's selling against the considerable obstacle that it's a challenge to generate repeat business on bags that last for decades. Thank heavens for the Chinese and their new quest for the perfect black travel bag – in red.