Tag Archives: social media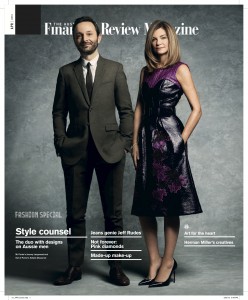 Style Counsel
This man wants to inspire Aussie blokes to embrace fashion. And his targets are not just the urban (and urbane) variety. As Marion Hume discovers, who knew there was a peacock just off the Birdsville Track?
The Austalian Financial Review | March 2013
After the hard yakka of running 12,000 head of beef cattle over 1.6 million acres, Clayton Oldfield pulls on new jeans and heads to the Birdsville Hotel. "For the pub, you want something nice," he says. The label on those jeans? "Aww, now you're testing me." He doesn't know the label on the new shirt either. Oldfield, 29, was born and raised where the north-east corner of South Australia meets the south-west corner of Queensland. How far is the nearest shop? "Define what you mean as shop." Twice a year, he drives 1300 kilometres to Adelaide to get what he needs. Then it's straight back to Sturt Stony Desert: few people, deadly snakes.
Yet he's been using his broadband connection for more than keeping up with the price of stud bulls. "Mr Porter's easy," he says of the global online menswear retailer. "Once, the jeans were the wrong size. You just let them know you're sending a parcel back and take it to the post office." (That's only a 52-kilometre round trip.)
How did a fourth-generation cattleman get with the fashion scene? "I just look at the design and I go from there," says Oldfield. "I know what looks good, nothing really outrageous. I like that there's a lot of stuff there, there's clothing I might not have tried." He hits the site "about once a month, once every couple of months".
It is no empty boast that www.mrporter.com has changed the look of the Aussie bloke, whether it is the urban fanatics trawling late night for Lanvin or Saint Laurent, or the men of the Never Never – off the Birdsville Track or at Yulara, out by Uluru – or even those on Lord Howe Island who like a bit of James Perse for the cool of an evening.
The company does not release figures, but it is understood that sales to Australia rank second behind the UK, where Mr Porter is based, and ahead of the US. It may only be the urban shoppers who lap up the extras: the online magazine, the snazzy apps, the video content, some of it voiced by a fruity-vowelled Englishman ("Cary Grant's father taught him the art of understatement. Remember it's you walking down the street, not the socks. Mr Grant never forgot it.") However, for the far-flung, it's a style lifeline. "You just wait a couple of weeks and it's there at the post," says Oldfield.
Delivery is swifter if you live in a city. At present, it takes three to four days for the Aussie man to get a Mr Porter fix, delivered in distinctive black-lettered white packaging. The first Australian order was received within 30 minutes of the site's launch on February 19, 2011, and an E. Tautz wool tie embarked on its way to Warracknabeal, in Victoria's wheat belt. In the first 24 hours of trading, nearly 20 per cent of the international orders were from Australia, three times more than any country outside the UK. In two years, Mr Porter has "grown to an astonishing size compared to where Net-A-Porter was in the same period of time," says Natalie Massenet, the founder and executive chairman of Net-A-Porter Group. (The Outnet, which sells designer wares from previous seasons, is the third of a trio of distinct offerings.)
To be fair, the foundations were more solid than 13 years ago,when, from her kitchen, Massenet worked out howto use the new fangled internet to flog designer clothes. In 2010,Net-A-Porter Group was acquired by multi-brand giant Richemont in a deal which valued it at £350million ($519million).
While the vastness of Oldfield's outback backyard deserves the adjective "awesome", a world away, so too does Net-A-Porter's global HQ,which sits atop Westfield London. When I last interviewed Massenet (AFR Magazine, December 2010), inside the penthouse office floor, the company she founded occupied a third of the available space. Now, barring a gym in one corner, she has it all.
The group employs more than 2500 people across three continents. In London, plasma screens log global sales live: a man in Cleveland buys a Canali suit, a woman in Stockholm snaps up a shirt by Jil Sander. It's the middle of the night in Australia, yet suddenly the globe swivels and an icon of a white bag lands on Australia. Last time I was here, the daily sales ticker stood at £455,443. On a January day in 2013, while Washington is headed for a fiscal cliff and London is braced against news of an economic double dip, the figure tops £2.5 million. "Please don't write that down, a lot of stuff is reduced on sale," begs the press officer.
It would help to have binoculars to spot Jeremy Langmead across this massive building.Once I reach the man at the helm of Mr Porter,we shake hands in a suitably "man's world" way, then walk – or rather, hike, given the distance – to Massenet's corner office,where she flops on the sofa and he perches beside her. Massenet, a former magazine fashion editor, hired Langmead from Esquire magazine. I ask how he is faring, across the barricades in the world of commerce. "Shall I leave the room?" he gestures to the other side of the plate glass. She says he was always the front runner, especially after that other candidate turned up for his interview in shorts. "Shorts!" Massenet hoots. Does Mr Porter not sell shorts? "We do." Perhaps the candidate hailed from Australia? "He did not."
Langmead, who was editor-in-chief of Wallpaper for four years before editing UK Esquire, admits he was desperate for the job. "One of the frustrations of being in print magazines was that I wanted to do so much more than I was able to. We had a very small blog budget, £15 a month or something. And I have quite a short attention span." He was also bored with the pretence of a church-and-state division between editorial and advertising, which – while vital in a publication such as AFR Magazine – makes little sense in fashion glossies, which are pretty much "pay for play", meaning those who advertise get coverage, those who do not rarely do. "You were featuring things but you were never really sure if readers liked them," Langmead says. "Here, you know instantly. You can see what they've read and what they've bought. I like that."
While he and the woman who hired him clearly share a can-do determination, his is schoolboy eager (although he sports a beard and has two grownup sons); hers still has the nervy feistiness she needed at the beginning to prove the doubters wrong. Theworld's most glamorous geek exudes not an iota of the puffed-up smugness of a business titan, even though she pocketed £50 million from the Richemont sale; has been awarded an MBE; and is at the start of a five-year pro bono tenure as chairman of the British Fashion Council, the first woman thus anointed,which may very well lead to a trip to the palace and "arise Dame Natalie".
No resting on laurels now. The fashion world might exalt Massenet, watching her in the front row, copying what she wears, buying whatever device she might pull from her handbag. But this mother of "kids who are BBMing and instant messaging and Instagramming" (she has daughters aged 13 and seven) knows the challenge ahead. In the early days, it was to drag the fashion pack up to speed.Now, it is to outpace a consumer for whom luxury e-tailing has morphed from novelty to normalised.
To this young customer, engagement works two ways. As Massenet recalls: "At the Paris shows, I posted my little black flat Valentino studded shoes on Instagram and within three seconds, someone said, 'Oh that's so last season'. By the way, we ordered them like crazy; they're one of our best sellers, they're like a cult shoe. I then took my little shredded Converses, that I had brought for the Eurostar ride and put them up and responded back to this person saying, 'What about this?' I have no idea who it was, it was an anonymous
post, but it was kind of funny. It's like, 'Wow, there's somebody out therewith an opinion'. But I'm happy then to counter them and say, 'I love those shoes, they're amazing, they're flat, women should be wearing them'."
Similarly,Mr Porter customers keep Langmead on his toes. "If you post, they'll leave comments," he says. "I'm always Instagramming and tweeting and Facebooking. You come back from the men's shows and you have to know what people are 'liking',what's going to sell. Equally, you have to know that lots of people are using you to keep up to date with what's been happening throughout the day. You get feedback so quickly. You take a picture and within a minute, you have 68 likes."
"People are making decisions visually," says Massenet, "which is really good for us because we're selling visually. People are making their decisions on what to buy based on a picture and ordering it and shipping it and then trying it on. It's a very different process now. People are processing information in a completely different way."
The expectations of today's shoppers are literally sky high; they can load up a custom-made app, get a sneak peek of a new collection, participate in live events (such as the one Net-A-Porter staged with Karl Lagerfeld last year) and buy by scanning images on display in global popup shops. What you saw on Bondi Beach last year was teenagers holding up iPhones and shopping. What you didn't hear was a voice belonging to anyone under 35 saying, "How the hell do they do that?" (Augmented reality technology, cutting-edge image recognition technology, powered by Aurasma, overlays the virtual world on the real world environment through a device, such as a mobile phone or a tablet. Got that?)
Net-A-Porter is about fashion, full speed ahead. Mr Porter's tone is different: it meanders, taking time to teach chaps what's what, yet it is underpinned by the same whizzbang, ever-updated technology. And while it may appear obvious that a business so successful at selling to women would expand into menswear, success with both in the bricks-and-mortar world has been rare and usually started with the boys. Ralph Lauren sold ties; Thomas Burberry sold trench coats for soldiers.
"It's distinct. On Net-A-Porter, it is about 'You have to have this. Don't even think about leaving the house without it.' Whereas for Mr Porter . . ." Massenet looks to Langmead. "The words 'must have' are totally banned. We work hard at creating an online world where men feel comfortable, whether they are there to shop, browse, or just be inspired."
It's somewhat like being looked after by the Downton Abbey butler: studiously polite yet sometimes raising an eyebrow. An entry under style icons reads, "Although the list of his other virtues is short, the Duke of Windsor is widely considered to be the best-dressed man of the 20th century and his clothes were exemplary in many ways." When it comes to casual attire: "Seen here performing with Nirvana in 1991, Mr Kurt Cobain underscores the sweatshirt's rock star appeal." One starts to imagine that the man who frequents Mr Porter must be equally sophisticated – the type of guy to drive a girl around the Riviera in a sport car – while, in truth, he's more likely to pull out his phone and add a Rag & Bone T-shirt to his wish list during dinner.
"I think men were not so much waiting for internet shopping to happen but waiting for a dedicated style site that spoke to them, their lifestyle, their interests and their needs," Langmead says. "They were certainly adept at shopping online for other areas in their lives. We can be quite geeky as a gender." The expectations too, differ from the sister site.
There's the understanding that a sale might not be final. On the one hand, when a man finds something he likes, he'll want more of the same and inventory is held to facilitate restocking. The female customer, in contrast, will have moved on, not to the next thing but the one after that. If our gent tries something and it doesn't suit, returns – as on the sister site – are free with tags intact. To mitigate against wear and return "the tags are located in quite an uncomfortable place", notes Langmead.
This duo is not remotely surprised that Australia is playing a leading role in Mr Porter's success, especially as Australian women were fast off the mark. (The first order on Net-A-Porter from Australia was within 12 months of the June, 2000 launch, back in the day when few had faith in fashion online.) "Thanks to the internet, the Australian consumer has, I believe, become far more knowledgeable, confident, experimental and savvy about style. It's an exhilarating period for menswear at the moment," says Langmead. "The online retail landscape has allowed him to be a lot more selective and it is a natural process for him. We certainly see a very fashion-forward guy buying the likes of Givenchy, Alexander McQueen and Lanvin from Australia."
Langmead's own style is not especially adventurous, despite the red socks he's teamed with brogues. "We actually just did a video on the trends in Paris and we were looking at socks. They're quite cheery." He brand checks: "Loro Piana washed cotton, chambray shirt, Alexander Olch check, wool twill tie, Canali Kei slim-fit, unstructured, cotton- blend blazer." He also wears trousers but does not name check them because he's moved on to the bracelets. "Luis Morais. Small diamonds and white gold in the middle."
"That was the first item to sell out on Mr Porter," says Massenet. Langmead adds: "It's extraordinary how many businessmen wear these. Loads of finance guys wear beads on their wrists." Even in Australia? "They fly out." So what of the three neon tangerine bands that hang loose from Massenet's dainty wrist? "Hairbands; put hair in a ponytail instantly," she demonstrates. Ah, but trust her to have a dime-store product in a hard-to-get colour. Her outsized top is Les Chiffoniers. "We're really in love with the sweatshirt right now," she says. "This is a couture sweatshirt look plus inky black jeans by Frame Denim and Alexander Wang wedge boots,which are very cool and I can run in them."
The skill, they say, is in the curation. In the vast gentleman's closet that is Mr Porter, a sweatshirt featuring a shark might coexist (but never be worn with) a Charvet tie (the French firm was founded in 1838). "It's that balance of taste and desire and just getting it right overall," says Langmead. Massenet's view is: "We're not trying to be the world's biggest super store. Our value add is that we edit what we believe in. We make sure we are the partners to our consumers in terms of taste."
Massenet used to be the fashion chick at the geek show. Although she remains the designers' champion, today it is technology that ignites her. "Within two years, everyone will be looking up again," she predicts. "You'll have the messages going in your field of vision so you don't have to move your head down. There will be a single device for everything. You will have your desktop within a mobile and you'll connect to TV screens, movie screens, as well as the ability to make a purchase or identify yourself across all platforms with a single
click,which will be mind-blowing."
The only bit I really grasp is that it is all coming within two years and I have learnt not to doubt Natalie Massenet.
Langmead proffers me a parting gift I am better placed to understand. "The inky incarnation of Mr Porter," he says, sliding across a book, The Manual for a Stylish Life, printed on sensuous vellum stock. Massenet grabs it. "Look, all the images downloaded instantly," she says with a straight face. "And you can flick seamlessly from one page to the next!"
Then she giggles and hands it over.