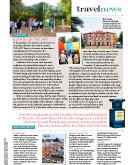 Estate of the Art – Collezione Gori
by Marion Hume
In the gardens of a Tuscan manor house, an inspiring collection by modern masters. TUSCANY There is, of course, an abundance of celebrated art in Tuscany, but the experience of looking at it amidst jostling crowds is rarely tranquil. And what if your taste is for something more modern?
Collezione Gori is a rare treat: a private collection of art beautifully displayed in some 24 hectares of parkland surrounding a grand Tuscan manor called Celle. The estate displays some 70 works designed precisely for their surroundings by artists including Anselm Kiefer, Ian Hamilton Finlay and Richard Serra. The collection was started by Giuliano Gori, who acquired the old mansion in the Tuscan hills between Florence and Pistoia, in the 1970s and set about inviting artists to come to Tuscany, absorb the atmosphere, choose where they would like to see a creation displayed and then be funded to make that happen.
Entry to Collezione Gori is free, but the days of turning up at the gates on a bicycle and be let in are long gone. Today, you must write to the gallery well in advance- although the good news, as the collection prepares to celebrate its 30th anniversary in 2012, is that there will be more summer open days than in the recent years. Current artworks include a house of mirrors by Daniel Buren, a bamboo pathway to infinity and a couple of giant eggs.
Now structural renovations are complete, it's also possible to enjoy the seventeenth century chapel, historic fountains and stonework in the garden next to the house. As well as modern installations – keep eyes peeled for the  Marta Pan and two Dani Karavan works- other treats include a number of 19th century whimsies such as an aviary, a tea house and an Egyptian monument. The landscaping, inspired by the English stately homes, includes two small lakes with crags and a waterfall. Amid all this is the unmissable My Sky Hole by Bukichi Inoue. Set in the olive grove, it sets visitors on a meditative journey through an outdoor corridor, down an underground tunnel and back up a spiral staircase into the light of a large glass cube.
For details on how to apply for a visit go to goricoll.it and allow at least six weeks notice.