2012
You are browsing the archive for 2012.
By admin on December 1, 2012
Sometimes an adventure beckons and you have to follow the lead. When an interview was relocated from New York to Prague, I was thrilled, given I haven't been to the Czech Republic since it was Czechoslovakia. I looked forward to going again to the mighty Prague castle, to walking the span of the historic Charles Bridge.
But then a half-lost nugget of something began to niggle. When, recently, had there been mention of something Czech? I realized it was a few weeks before, in Kenya, when I was watching Maasai women working their magic on a range of bags for Myer, including designs by Karen Walker, Fleur Wood and Jayson Brunsdon.
Posted in 6. Columns | Tagged AFR, column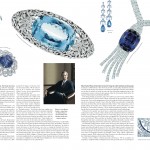 By admin on November 15, 2012
True Blue Nobody was more surprised than Michael Kowalski when he got the top job at Tiffany. As Marion Hume writes, during his watch the retailer has made some radical moves in its quest to sell fine jewellery in a 'democratic' way. The Austalian Financial Review | November 2012 by Marion Hume What a swell [...]
Posted in 1. Designers, 2. The Fashion Business | Tagged Baz Luhrmann, The Great Gatsby, Tiffany
By admin on November 6, 2012
Paris in the sunlight. As my taxi slows in traffic near the Hotel de Ville, I am once again convinced of the existence of a secret agency of the French government, or perhaps a hidden team within the offices of the mayor. Their mission? To hire gorgeous young people and send them out on the streets to kiss, thus maintaining a worldwide reputation for romance.
Posted in 6. Columns | Tagged AFR, column, Paris