2007
You are browsing the archive for 2007.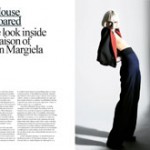 By Marion on December 23, 2007
I'm In ParIs to interview a man who isn't here, which would be really irritating if I were expecting he would be. But Martin Margiela, who has been in business for nearly 20 years and – here's a surprise – has a business turnover in the region of $42 million, is the invisible man.
What's annoying is that, apparently, Margiela isn't a crazy recluse who doesn't talk to anyone. He just doesn't talk to the press. Plenty of other people see him, talk to him, go for drinks with him. apparently, like everyone else in Paris, he goes out for dinner. When Margiela was designing for Hermès, which he did for six years between 1998 and 2004 while also building up his own maison, those in the workrooms found him utterly charming. "He is charming," says a friend when I'm won-dering how to pose questions to someone to whom I can't talk. "and what do you mean, invisible? You've met him."
It seems I might have – because in the very early days, before Martin Margiela became well known for not being known at all, he did speak to reporters. Back in the mists of time, before even the brief era when Kate moss gave interviews (she did, you know, to the Independent, and her agent was very specific that she be served a hot lunch), Margiela talked to those who showed an interest since then, Margiela has got smart – once the "designer as star" era erupted, the lid had come off Pandora's box and other designers found themselves trapped in an endless blur of soundbites. Meanwhile, Margiela receded from view, scurrying about and finding old stuff to re-examine, re-cut, rethink and make new again. While he could have been spinning out smart statements while sitting in posh hotel rooms or inviting privileged journalists from glossy magazines into his lovely home, he instead built up a label that includes conceptual pieces, deconstructed pieces and just plain beautiful pieces, with nothing wacky about them. He has, in other words, been doing what he set out to do in the first place.
Posted in 1. Designers
By Marion on December 21, 2007
In 1947, an haute couture evening gown could cost 300,000 francs, the equivalent of what a working man in one of the rougher neighbourhoods of Paris might earn over fifteen years. A day jacket and skirt, without lavish embroidery, was 59,000 francs, (or about three years' wages for our laborer toiling in Belleville or Menilmontant). As for today, (or actually some years back, because the prices given were still in French Francs, not yet in Euros), a couturier told me one of his wedding gowns cost 600,000 francs – although to be fair, that did also include a gossamer-light, hand-embroidered veil long enough to extend to the exact length of the aisle of one of Europe's grander cathedrals.
Posted in 6. Columns | Leave a response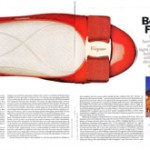 By Marion on November 23, 2007
The Ferragamo family built its fortunes on shoes, but the tight-knit clan is stepping boldly into a new era, with a new managing director and plans for a public offering.
Posted in 1. Designers | Leave a response