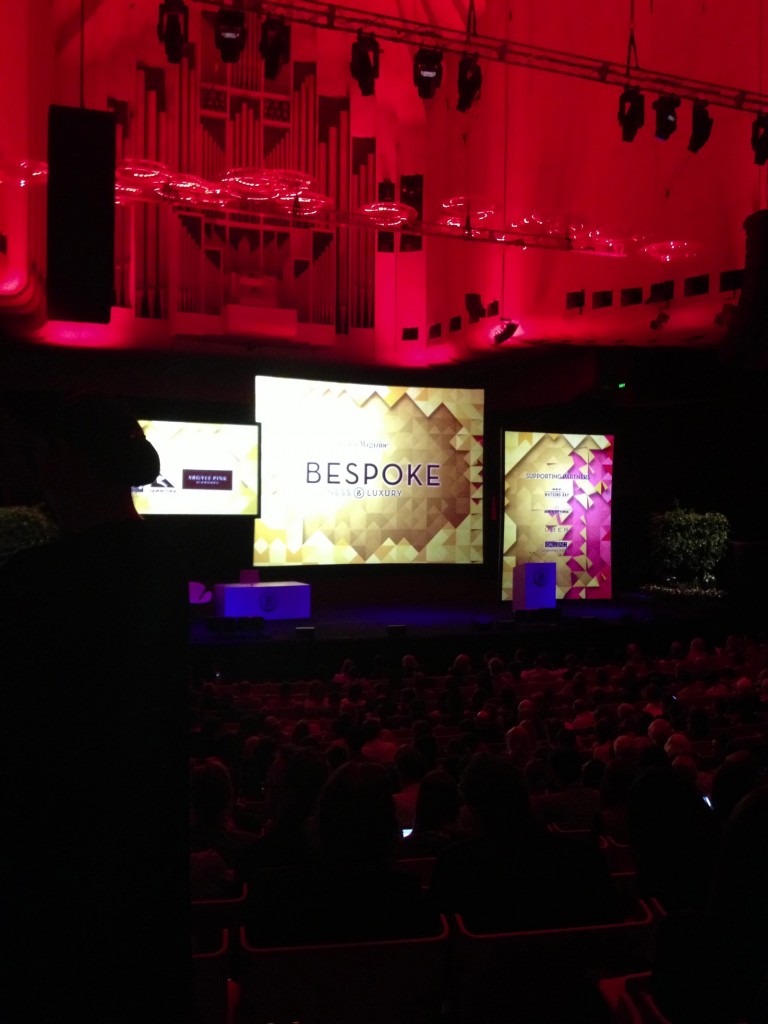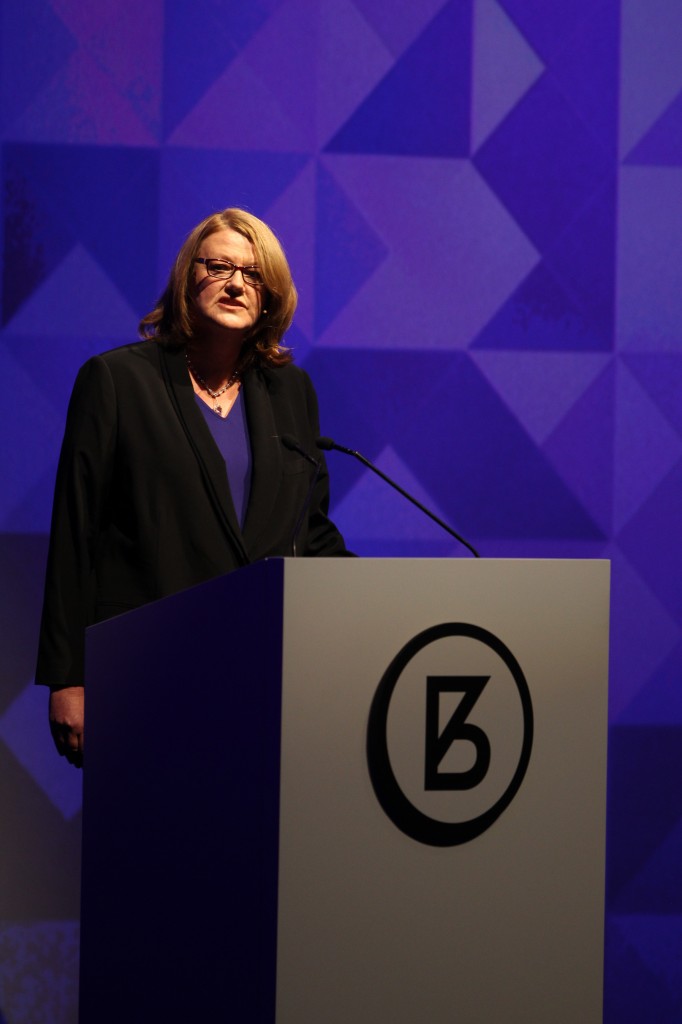 Good morning everyone.
Welcome aboard Bespoke.
As you took your seats,  you saw a visual celebration of Australia's raw luxuries.
We may not be Paris – the undisputed capital of fashion – we ARE right at the world's luxury source.
Let's start on Sydney Harbour. The Australian Financial Review is headquartered at Pyrmont,  on land once sold for a gallon of rum to Captain James Macarthur.
Sailing on the Second Fleet, it was Captain James Macarthur who brought the first merino sheep to Australia.
Industrial architecture – the massive finger wharfs stretching out into the water – reminds us that this city – this nation – was built on a sheep's back. Yet perhaps we overlook the vital role played by wool in fashion today.
Superfine suits by Zegna, Paul Smith, Burberry?
Always Australian.
Dion Lee reached the finals of the Woolmark awards in London, where one of the judges was Victoria Beckham, whose designs – in Australian superfine – have re-defined what women wear in the boardroom.
Our ancient island continent is rich indeed. For the wealthy woman in Shanghai considering the purchase of an Hermes Crocodile Birkin or the one in Paris who desires a Victoire de Castellaine opal ring from Dior; the trail starts here.
There's Australian gold, sunburst yellow diamonds from Ellendale and from out beyond the tin-roofed town of Broome, in the sparkling Arafura sea; Pinctada maxima – the shells the size of dinner plates, south sea pearls lustrous to behold. These greenest of gems which thrive only in pristine waters – become jewelled creations by Paspaley, Kailis and  Harry Winston and Tiffany & Co on New York's Fifth Avenue.
Our mineral wealth inspires our artists. In 1983, Jenny Kee created Opal Oz which Karl Lagerfeld used in his first ready-to-wear collection for Chanel.
In 2007, Gloria Pet-yar-ee's art became "Gloria's Dream", a silk scarf for Hermes.
Just a few weeks ago, Zegna revealed a collaboration with Dorothy Nap-an-gardi, whose artwork, Salt, was incorporated in to the menswear collection.
Then there's the Argyle Diamond mine. Argyle's peerless pinks find their way into the hands – or actually, the tweezers – of only the world's finest jewellers – the Australians celebrated in the Beyond Rare brochure today – with others around the world including Chow Tai Fook in Beijing, Nirav Modi in Mumbai and Van Cleef & Arpels on Place Vendome… which takes us back, again, to Paris.
…A city which has its eye on us.
A few weeks ago, the world's largest luxury group, LVMH – which is helmed by the richest man in France, Bernard Arnault – took a stake – through its investment arm – in RM Williams.
Some of my business colleagues at the AFR were perplexed. What could the chi-chic French want with work boots worn by everyone here, from the boss to a jackaroo?
One word – macho.
The French might have the lead on romance, but when it comes to footwear, a bloke wants to look like a bloke.  The appeal is somewhat like our actors – Russell Crowe, Hugh Jackman, Joel Edgerton, Sam Worthington, Jason Clark – we send em out tough and rugged.
Equally, Australia brands like RM Williams promise a deeply male authenticity, which, to the purveyors of luxury looking – especially – to sell menswear into China, is as desirable as our diamonds.
Akubra is not for sale. This family firm just turned 100 and the whispers are that the hatters of the Outback have exciting plans ahead. They certainly have unusual customers – the second biggest market for Australia's celebrated hats? It's … Tibet.
Might a brand go global from here? The best-known luxury brands trace their roots back to hard work; Louis Vuitton made steamer trunks, Thierry Hermes was a saddler. So why not one from the land of hard yakka?
Still, it's got to be said, we're pretty good at relaxing too – and creating sand-between-the-toes chic which labels – such as Zimmerman – export to the world.
Australia today has one of the world's most robust economies, thanks largely to a resource not connected to the fashion world; iron ore.
Yet we also breed entrepreneurs who are focusing – not – on what we can sell over there, but on what – they – can buy over here.
I'm talking about a sophisticated focus on inbound tourism aimed in particular at top-tier Chinese visitors.
Their expenditure in Australia is expected to top $9 billion by 2020.
Our isolation of old has been replaced by a central position in the trade maps of a new world.
Global economies have shifted and Sydney is perfectly positioned as the modern metropolis-on-the-ocean.
And what does the tyranny of distance mean anymore, anyway?
In a scan-and-shop digital age?
The theme of Bespoke is creative collaboration. The Sydney Opera House is stunning example of what can be achieved when talents, from many disciplines, come together with a shared ambition to be outstanding.
Today, fashion has to be collaborative if it is to fly. The days of the designer issuing edits from an ivory tower are gone. This global industry thrives on partnerships. Yet we must not ignore new paradigms. Where we must be bold is in ways that make fashion more fair.
So what does Australian luxury mean?
To me, it is all about encapsulating how we live, how diverse we are, this vast land and the blue sea.
In the past few days, it's been a joy to welcome our speakers from around the world and to watch them, falling in love, as I did when I first landed here in 1996.
"Why can't I live here?"
"Why can't I live by the water?"
They've been saying to me, "Why can't I live like you do?"
Sydney is a shiny city of fresh thinking and new beginnings.
Literally – in that, every New Year's Eve, the world turns in this direction and watches as fireworks on the Harbour Bridge illuminate the Opera House sails.
Our first speaker is the creative director of a brand which has a direct relationship to The Sydney Opera House.
Please welcome – in the brave and bold position of walking on first – Ana Maria Escobar, the Creative Director of Oroton Group.