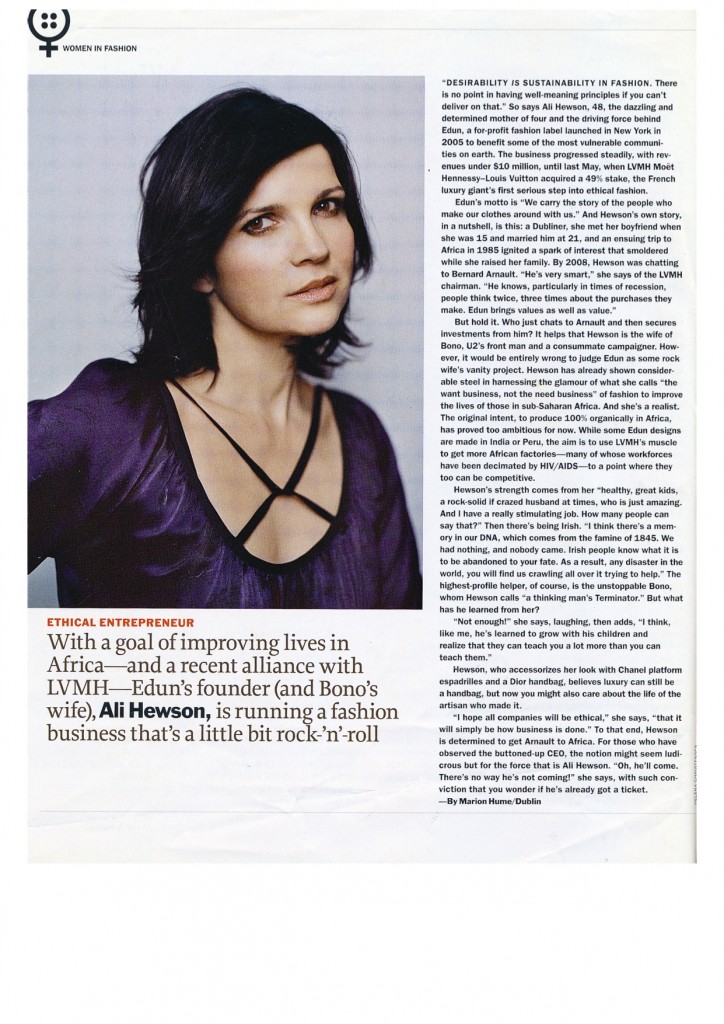 By MARION HUME / DUBLIN Wednesday, Sep. 09, 2009
"Desirability IS sustainability in fashion. There is no point in having well-meaning principles if you can't deliver on that." So says Ali Hewson, 48, the dazzling and determined mother of four and the driving force behind Edun, a for-profit fashion label launched in New York in 2005 to benefit some of the most vulnerable communities on earth. The business progressed steadily, with revenues under $10  million, until last May, when LVMH Moët Hennessy–Louis Vuitton acquired a 49% stake, the French luxury giant's first serious step into ethical fashion.
Edun's motto is "We carry the story of the people who make our clothes around with us." And Hewson's own story, in a nutshell, is this: a Dubliner, she met her boyfriend when she was 15 and married him at 21, and an ensuing trip to Africa in 1985 ignited a spark of interest that smoldered while she raised her family. By 2008, Hewson was chatting to Bernard Arnault. "He's very smart," she says of the LVMH chairman. "He knows, particularly in times of recession, people think twice, three times about the purchases they make. Edun brings values as well as value."
But hold it. Who just chats to Arnault and then secures investments from him? It helps that Hewson is the wife of Bono, U2's front man and a consummate campaigner. However, it would be entirely wrong to judge Edun as some rock wife's vanity project. Hewson has already shown considerable steel in harnessing the glamour of what she calls "the want business, not the need business" of fashion to improve the lives of those in sub-Saharan Africa. And she's a realist. The original intent, to produce 100% organically in Africa, has proved too ambitious for now. While some Edun designs are made in India or Peru, the aim is to use LVMH's muscle to get more African factories — many of whose workforces have been decimated by HIV/AIDS — to a point where they too can be competitive.
Hewson's strength comes from her "healthy, great kids, a rock-solid if crazed husband at times, who is just amazing. And I have a really stimulating job. How many people can say that?" Then there's being Irish. "I think there's a memory in our DNA, which comes from the famine of 1845. We had nothing, and nobody came. Irish people know what it is to be abandoned to your fate. As a result, any disaster in the world, you will find us crawling all over it trying to help." The highest-profile helper, of course, is the unstoppable Bono, whom Hewson calls "a thinking man's Terminator." But what has he learned from her?
"Not enough!" she says, laughing, then adds, "I think, like me, he's learned to grow with his children and realize that they can teach you a lot more than you can teach them."
Hewson, who accessorizes her look with Chanel platform espadrilles and a Dior handbag, believes luxury can still be a handbag, but now you might also care about the life of the artisan who made it.
"I hope all companies will be ethical," she says, "that it will simply be how business is done." To that end, Hewson is determined to get Arnault to Africa. For those who have observed the buttoned-up CEO, the notion might seem ludicrous but for the force that is Ali Hewson. "Oh, he'll come. There's no way he's not coming!" she says, with such conviction that you wonder if he's already got a ticket.