Inforum Speech
Marion Hume | January 2012
Welcome everyone.
My thanks first; to Jenny Garber and Fiona Coogan of Inforum for inviting me here today.
To Jeni Porter, my editor at The Australian Financial Review Magazine for letting me reveal just a few of the things in a major report about the business of fashion in Australia – which the AFR will publish in the April Fashion Special.
To my AFR colleagues, especially Brook Turner for hiring me 7 years ago,  art director Tony Rice for making my articles look so good, Marguerite Winter for being my safety net and the unflappable Samantha Hutchinson.
My heartfelt thanks to Adam Worling for se-conding his staffer, Erica Chen, to make sure the powerpoint actually works. And thank you Erica. And also to Lindsey Botts for his input.
To Harper's Bazaar for letting me use images and to photographers; Amber Rowlands, Jeremy Stigter, Victor Demarchelier, Gavin Bond, Will Davidson and especially, Peter Hunt, for permission to show their work today.
And as always, my thanks to Wee Keat Chan.
—So; SURVIVING THE FASHION BUSINESS OR 25 YEARS SPENT TRYING
Me 25 years ago? It's a little bit more than that to be honest. But what's honesty in fashion? I was born in 1962, making me too young to remember London designer, Mary Quant inventing the mini skirt.
Or was that Courreges?
Or Yves Saint Laurent?
Which of the above may have massaged dates in their archive slightly — backwards — so that history records them as first?
Perhaps I'm not the only one fudging the numbers.
Fashion is a game of smoke and mirrors, so here's me in about 1980 smoking. Or pretending to because it was the fashionable thing to do.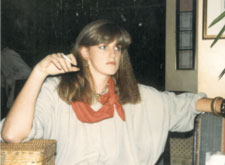 Nowadays smoking is transgressive. Here's Kate Moss on the Louis Vuitton catwalk
.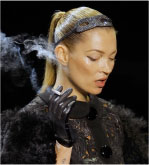 I have honestly never smoked (nor indeed put mirrors to what is -allegedly – a somewhat common use on planet fashion)
Fashion isn't always what it seems.
—————————
But one area where the numbers aren't fudged are where they read like this;
"Interim nine months 2011 reaching 9,709 million euros. Gross profit reached 5,784 million euros."
What does that all add up to? Impressive.
These financials are from Inditex, the holding company for Zara,
Which numbers the other Kate among its fans
.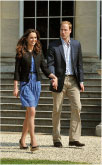 When I started reporting fashion, no one ever asked if I could add  2 + 2. It was about Paris, Milan and the colour of the season.
Now fashion is global. And more than anything, it's about the colour of money.
————————————————————–
Actually, I've had practice adding up and giving the right change. I started my working life as a shop girl. It helps being 6ft2 when you are 15, not 16. By the age of 19, I working in Browns, the London emporium of style, then and now controlled by the all seeing eye of Mrs  Burstein.
I worked selling Norma Kamali  – a huge name then, not now.
Which proves – even those you think you'll love forever….. will fade.
Or not
Here's Karl Lagerfeld, circa 1980, with his Goyard suitcases.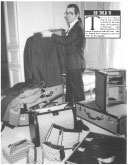 Tell me another 75 year old today  – who might really be 79 – his age being the subject of some conjecture – who could cause a five-city frenzy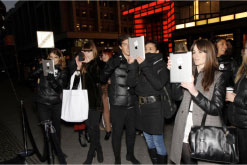 when pop up stores,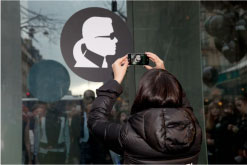 in association with net-a-porter, opened from Berlin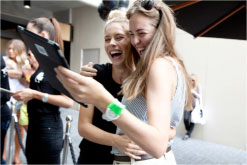 to Bondi Beach last week.
Karl and I had memorable tete-a-tete at his mansion on the Left Bank in Paris in 1994 because he was displeased by my critique of a Chanel show.
In newspapers, the reporter doesn't write the headline. But as you can imagine, "No Way To Treat A  Lady" didn't go down that well.
Our point of difference? He considered his fluffy hats to be surreal. I said they made supermodels who couldn't see out of them stumble like blind mice.
And,  being me,  that wasn't all I said.
So I got summoned chez Karl, where the butler served me water in a crystal goblet the size of a goldfish bowl, full of ice cubes that could sink the Titanic. An ormulu clock worth more than my house ticked and ticked and then at last, Karl appeared from behind an 18th century screen and then, oops, I wrote all about our chat…. which made him even more exasperated .
Let's say we have enjoyed a respectful relationship ever since.
Designers, in my experience, are unique individuals and always exciting to encounter.
However for the AFR, my targets tend to be CEOs – the business people –
So you can imagine my disappointment when Chanel's president of fashion activities, Bruno Pavlovsky cancelled an interview in Paris it had taken months to set up.
Instead, he insisted the location had to be
here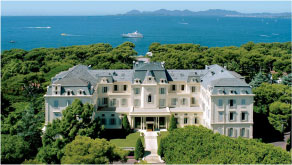 The hotel du Cap, Eden Roc, Cap d'Antibes. A favourite of Picasso and Edward & Mrs Simpson.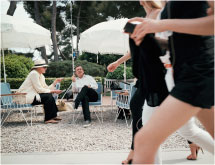 Being sent to the Riviera. On the morning of the Chanel Cruise show which was opened by Melbournian,  Abby Lee Kershaw.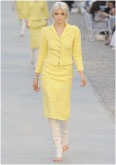 This job? It's a chore.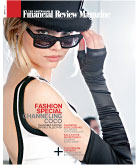 What is a Cruise collection?  Though they garner less press attention than those huge ready-to-wear extravaganzas revealed in Paris twice a year, cruise is far more profitable, accounting for more than 70% of clothing sales for brands worldwide because of  –slightly– more affordable price points and designs that work in places where the weather differs from France. Like Australia.
Chanel has had a presence on these shores since 1922 when the first rare flacons of Chanel no 5 arrived.  Karl has been at the helm since 1983.
Talk about surviving the fashion business!
——————————————————
What of the other luxury brands in 1985, the year my first articles were published?
back then Hermes was a scarf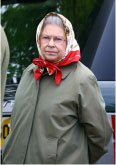 Louis Vuitton was a trunk
and
Burberry was just a coat, designed by an old chap for other chaps. Although women had started wearing them too, following Meryl Streep in Kramer versus Kramer
——————————–
Let's have a look at Burberry now.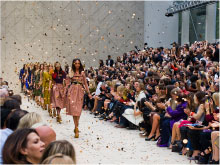 I was in the audience of this show. But I wasn't among the first to see it – it was tweeted to the world from backstage BEFORE the models appeared on the runway.
Those of you who tweet, tumble, etc may be familiar with Burberry's digital activity. burberry.com is available in 46 countries in six languages, its Digital platform has had over 16.6 million page views in over 200 countries. Its Facebook page has over 10.2 million fans.
And by the time I've read that, it's probably out of date.
No surprise – Burberry ranks # 1 among luxury goods brands by social media activity.
———–
But Burberry is NOT the world's No 1 luxury brand in terms of cold, hard cash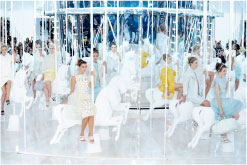 Hello Louis Vuitton,
or as they say it in China,  Ni How ELLE VEE
————————
Back in 1997, I  packed up my house and changed countries when I was hired to edit Vogue Australia.
Back in 1997, Marc Jacobs kissed his dog on the nose and started commuting between his native New York and his new job in Paris.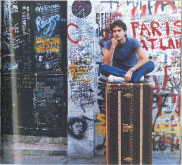 Here's how we captured a downtown boy's arrival at the then bourgeois Vuitton.
I guess Marc's recent contract negotiations, rumoured to have topped 12 million euros a year, might make his the better job offer….
Still it was me, not multimillionaire Marc who has ended up with the greatest gift. In my opinion, anyway.
Because yes, I did get fired from Vogue – terrific for tabloid headline writers, given that road out of Sydney is called The Hume Highway. But I got Australian citizenship and, not a tree (apparently they don't do that any more) but a poster featuring a koala, a bilby, a bandicoot.
And I do love a marsupial.
Back in my Vogue days, one colleague – who shall remain nameless –  was appalled at my adoration of Australiana. Every time I'd come up with another idea involving a model and a marsupial, she would chastize me with;
"We want luxury not kangaroos!" but why not both???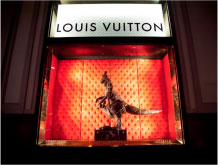 I knew I was right!
——————————–
SHOPPING AND THE CITY
The shopping cityscape has certainly changed since those days when you could only get Prada from a Duty free store in Sydney. Although I'd visit Melbourne and breath a sigh of relief at seeing women in Yohji Yamamoto and Martin Margiela, those radical designers I missed from Europe. Melbourne has always been such an elegant city, the big changes today are just a little less…. Huge.
But let's look at the city where fashion now really dominates the skyline.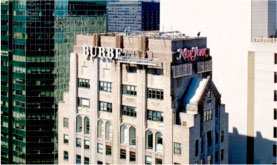 New York? Not really, although Burberry has neon signage way up high next to that of the New Yorker.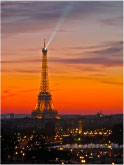 Imagine this with crossed CC Chanel branding. Sacre Bleu!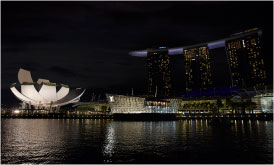 In Asia, there's certainly the store-as-cathedral. In Singapore, Louis Vuitton has its own island.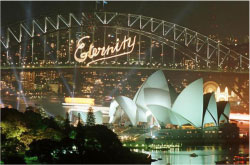 But Fashion logos on a world famous icon?
Of course not.  But some people thought so.
I spent the turn of the millennium on a boat on Sydney harbour with Tom & Nicole & Baz and CM and….
shall I just do that again…. I spent  the turn of…
But anyway, an American onboard turned to me and said;
"I cannot believe they let Calvin do that".
Eternity being of course a perfume by Calvin Klein, as well as the chalk on pavements tag of the legendary Sydneysider, Arthur Stace
(an idea, wikipedia tells me, that he took from a Melbourne man)
But now look at this.
Visible from well, everywhere in Sydney. The home of the  world's leading shopping mall brand.
Not, I stress, that I am anti shopping mall. Malls are democratic. They let all of us enjoy and participate in good design, which is far better than silo-ing those with less in ghettos where even what you get to look at is second rate.
Malls make people feel safe. They do not discriminate by age, by race, by wealth, by health or disability.
And you can breeze into Gucci with groceries in a Coles bag.
And why not?
We all have to multitask.
Westfield's biggest mall to date is in London. It is Westfield Stratford City, adjacent to the site of the 2012 Olympics.
It has what is known as "unrivalled connectivity" meaning it sits at the hub of road, rail and air links for millions of people.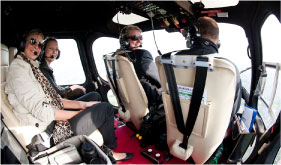 Although few arrive by helicopter.
I got that chance because an aerial photographer was recording the mall being constructed. If you are ever invited in a chopper with a snapper – know this – if they strap you in with a 6 web seatbelt, that's because they are going to open the doors.
It is a very odd sensation, let me tell you, to find there is nothing but the pilot, who appears to be lying on his side whilst flying, between you and the golden cross that sits atop St Paul's Cathedral.
Not for the faint hearted
But then show me a faint hearted fashion chick?
It takes guts to get to the front row.
—————————————
Of course it takes drive to build a global brand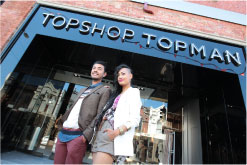 Here's Topshop – now at the old Jam Factory on Chapel Street. What a mob scene!
Topshop gives me the shivers. And it should. It's designed for those less than half my age who think frenzy is fabulous.
Who might be coming here soon?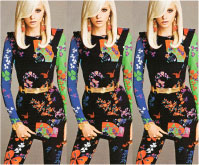 Hello again Abby – here modelling for H&M, the Swedish giant, which can't be far away.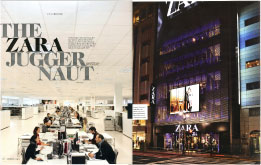 Here's how we covered the arrival of Zara in the AFR.
Remember those lines around the block? For weeks? As a friend of mine said at the time, "we're not a third world country any more".
Indeed not.
There's even a Zara in Adelaide.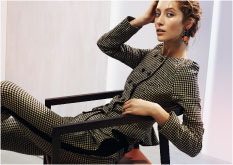 The foreign invaders have it allbuzz, bucks, access to top models. What hope have local brands got of fighting back against slick visuals like this?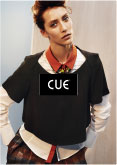 Hang on. Not foreign, This is the new campaign from Cue.
Part of Australian life since 1968.
Here's Country Road,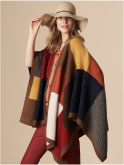 Oh I do like a wrap for fall – so useful
Cue, Country Road, Trenery, Oroton, Sportsgirl, Sussan, these are loved labels, helmed by smart and competitive people, who keep upping their game.
For this ain't no time to be lazy. I think we must conclude that some well-known names here will go to the wall.
No shopper is going to be loyal just because you've been around so long you dressed their mother.
————————————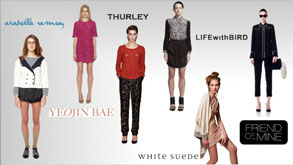 But what of the young designers?  When I arrived, a fashion fledgling called Akira Isogawa could be spring-boarded onto the cover of Vogue
These guys? Less likely.
It's the big internationals with the advertising bucks who get the prized covers today. That's part of the scratch our backs, we'll scratch yours deal.
And while young designers can eek out an internet presence, how to fight for space in a world market?
The biggest barrier to success? The GFC. Even though, compared to Europe and the US, Australians are now relatively rich.
Who's the next Collette Dinnigan?
What has not changed is those who thrive combine fashion savvy with business smarts.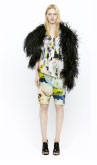 Why do Collette dresses like this hang in such a charming boutique shop-in-shops in David Jones?
Ever tried arguing with Collette?
She knows that works for her brand and what she wants and what her customers wants – and that's good.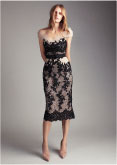 Consider Kiwi, Karen Walker, one of the stars at Myer.  When I came into this business, designers stayed up in their ivory towers —with the exception of the queen of the trunk show, Donna Karan, who was down in Bloomingdales, selling like pro.
Today, designers and stores have to collaborate. Myer and Karen have created Hi There, a line of bold, bright, primary coloured pieces that you can see from right across the floor.
Then there's all that hot colour at Sass & Bide and the evidence of a label thriving through collaboration with a store group smart enough to let these designers do their thing – while introducing that fun, funky aesthetic to a far wide customer base.
The gritty truth about enduring fashion success; only a teeny bit of it is ever about fantasy and ivory towers and sipping champagne . Most of it is about team work.
—————————–
As Tom Ford told me, he was standing on the Bund in Shanghai when it dawned on him;
"America, this is not our century any more"
and actually, that's rather good news for Australia.
The tyranny of distance? It depends on the point from which you measure. We're near the middle now.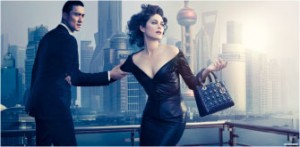 Enter the year of the Dragon.
No wonder Dior – opening its first Australian store in Sydney in November, chose the most beautiful Frenchwoman, Marion Cottiard, to fall in love with a mysterious Chinese man, played by Gong Tao, in the advertising campaign, directed by
David Lynch and set in Shanghai.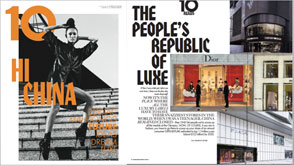 Visiting China always blows my mind.  Here's a recent piece I did for 10 magazine..  The People's Republic of luxe.
But the first time I went to Beijing almost a decade ago, it was to interview newly-successful women about their first designer buys. Yet instead, they told such sad stories of the Mao years. One told me about being given a yellow silk shirt from abroad, which gave her great joy every time she looked at it – until her mother dyed it brown so she could get the use out of it. That woman – a very powerful woman – started to cry as she remembered that.
The power of clothes is powerful indeed.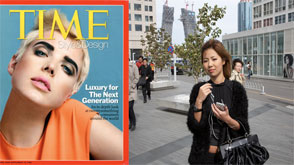 The skyline here dates this story from my long run as contributing editor at TIME Magazine's Style & Design in New York to 2008, because the Rem Koolhaas CCTV building is still under construction.  By 2008, the fashion antanae of smart girls like Wendi Yi – whose mother worn a Mao suit – were so finely tuned they'd already outgrown ELLE VEE. Wendi referred to Vuitton as "a second tier city brand"
Which translates as, for the hicks from the sticks.
Ouch.
She liked Fendi –which was handy, because we went together to the Fendi show on the Great Wall of China.
This, I can tell you, is what we call "a fashion moment"
Although a rather chilly one. I don't wear fur, ever. Fendi was loaning them that night, – see Kate Bosworth in the front row. Instead, I wore basically all my clothes on top of each other, which is never a good look.
Strangely, I don't seem to have a picture…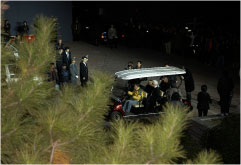 So instead, Here's the proof that Karl Lagerfeld, he of Fendi, Chanel, KL, is the closest we have to fashion god on earth – he's got his own popemobile.
That night on the Great Wall, Fendi almost went too far with its branding. The double Fs were projected onto the slopes of the Great Wall itself – which by the way, you can't see from the moon.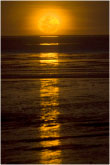 Is the moon next? Think of the great back lighting!
Here's the moon in Broome. Your brand up here?
Never.
But as technology advances, we may have to legislate to protect a view that belongs to every single one of us. No brand should change our natural world, pollute it or take without giving back.
However….. changing things for one night only is fine –  as long as every grain of sand goes back where it came from.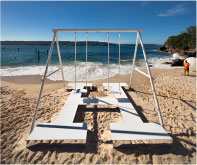 How lovely was the Hermes beach party in Sydney last month.
Rumour has it they had to remove all that pearly white sand with a hoover, Sadly, because everything had to go back to just like before the old beach hut on stilts Hermes turning into a champagne bar was for one night only.
That really is a shame.
I'm lucky enough to be sent all over the place, which is how I got to hang out with Arabian beauty, Al Anoud in Dubai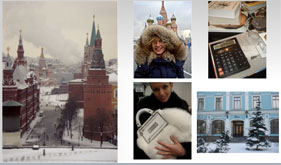 Then I froze in Moscow. Unlike Olga in her fur-lined parka.
May I draw your attention to the number on the calculator. It's at least $50,000. For a gown.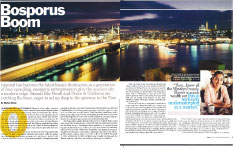 Istanbul is uber chic . On a boat on the Bosphorous,   the elegant Zeynep, who was rocking a white bikini, explained her deeply held muslim faith.  Her faith decreed, she told me, that she cover her private places —- hence 3 tiny triangles.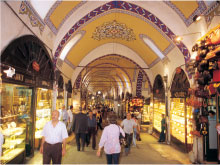 And the evidence that malls don't ruin cities and destroy civilization – here's Istanbul's Grand Bazaar, bringing you the mall shopping experience since Constantinople and all the way back to Byzantium.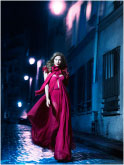 We'll always have Paris
The city of light, or dark in this lovely shot. But even Paris changes.
Hermes means tradition stretching all the way back to a saddle maker on the Faubourg Saint Honore, right?
Yet on the Left Bank,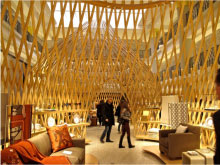 the Hermes Sevres store is a celebration of modernity.
Tradition is terrific, if you keep it spinning.
———————–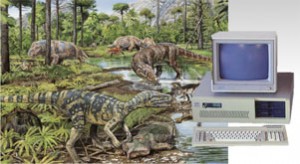 I suspect that Erica, who worked on these visuals, thinks these two both come from way back at the dawn of time. To a 20 year old, what's a few million years between a dinosaur and my first computer? Which of course was not connected to something called the internet.
Today, it's our lives. I'm sure many of you in this room are right now suffering social media deprivation, desperate to check emails, your twitter feed or indeed, as we're talking frocks, to shop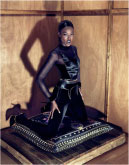 and maybe snap up this numero, on sale, at net-a-porter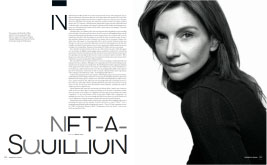 Yet it is my fault – absolutely mine – that the fashion professionals in this room face the mighty challenge of net-a-porter and now, its butch boyfriend, Mr Porter.
Founder and Executive chairman, Natalie Massenet, was bored with being a fashion stylist at Tatler magazine when she asked if I was hiring fashion for Vogue Australia. I told her no. Apparently she got back to her hotel room and shed a little tear.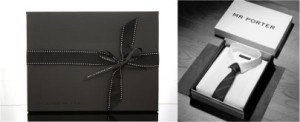 The next time I saw her, she told me she was going to sell high fashion on this new fangled thing called the internet, this electronic thing which geeks and boffins with unwashed pony tails and wearing in washed out band tour T shirts seemed to be excited about. But buying clothes? Without touching the fabrics? Obviously the poor girl was deluded.
These days, Natalie is awfully good natured about my rejection and the sale of her company for about 350 million pounds….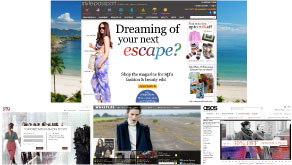 The PRs of  these sites have emailed out of the blue offering their CEOs for profiles in the AFR.  Honestly, when I joined the AFR, people in Europe were not approaching…me.
I had to virtually mud wrestle to land Tom Ford….
So why now?
Because they are all noticing how much business they are getting from Australia.
Without Even Trying.
Which is very trying for those in the business here.
What's Australia doing online? Not enough, not fast enough and you know it. Erica and I searched for wow images from Australian fashion sites. But here's the tough love – not exciting enough yet.
—————————————
SURVIVAL OF THE GLAMOUROUS
If you can't beat them…. No. You do not join them. You do what you do best.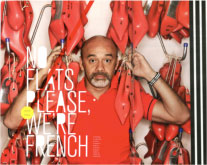 If you are a designer – perhaps be inspired by Christian Louboutin, the shoe maker whose company is still privately owned, who started with nothing and now has a global niche, selling more than 340,000 pairs of shoes a year in heel heights he calls high, extremely high and madness.
The AFR headline? NO FLATS PLEASE, WE'RE FRENCH
Know you customer. If you design for a creative and intelligent grown up woman, then treat her to some intelligent creativity. As Scanlan and Theodore did by getting the art photography legend,  Nan Goldin,  to re- imagine the seasonal ad campaign.
If you are a retailer – Everyone knows it is tough for those independents who have carved their market by bringing in hard-to-find international labels –  only to find this niche especially threatened by the internet. What to do?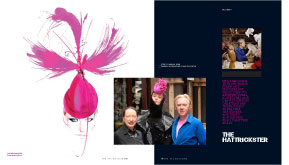 Boldly go in a very big hat?
Here's Christine Barro. Where's her store? Down a  Melbourne back street, down a staircase, underground. What's it like? A fantastical Aladdin's cave full of Lanvin and Celine bags and peerless jewellery by Adrian Lewis.
What did Christine do when she knew she needed to bring new, younger customers? She called Irish hatter, Philip Treacy — who does a lovely line in Melbourne Cup hats, as well as squiggles on the head of Princess Beatrice – to lend a hand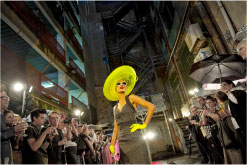 Her budget was buttons, so the show?  Staged in the lane way. Brilliant.
——————————–
Every one of us is a consumer. What do we all want?
Service.
I'm not talking obsequious, "Madame, your bum does not look big in that" silly service. But good service.
In Australia?
Sometimes it is appalling.
I started my career standing selling in shops. Before Browns, I worked in Debenhams, which roughly equates to a Myer away from the flagships. I worked in Selfridges, now so fabulous, then so foul, we used to get fleabites from the infested carpet when we knelt down to restock the cabinets.
My golden rule for how to get good service; pay commission. Some say that goes against team building, it causes backstabbing as sales people hurryto grab the customers while admin doesn't get done.
Hello! Me, your shopper? I do not care about your admin.
And, as a former shop girl working punishing hours in the dry air of an old department store, I'll be honest. I was motivated by making as much money as possible.
If You've got a problem with that, ask yourself this:  what would motivate YOU to get up from your snazzy desk and stand where I used to stand, at the front line, where customers — sorry to break this to you — can be quite vile.
Here's how it worked for me.
Smile and serve. Smile and serve. Kerching!
And a % in my pay packet.
Is this man in Melbourne on commission? I have no idea, but I can tell you, he can sell.
"Do you think a woman could wear this, or is it too much?," he asked as he spritzed some obscure fragrance – not on my friend and I,  but on scent strips. With that, he drew us in, lured us into his wonderful world of scent and then, how did that happen??? before we knew it, we felt so comfortable in the Harrolds mens store, we were shopping.
Salesmanship is an art.
The internet can do many things, but it cannot, yet, provide a handsome man to spritz two tired women with zest of lime and bergamot…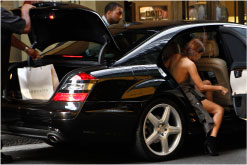 And it's not just me who's impressed. Here's Kanye West after a Harrolds shopping extravaganza in Sydney.
—————————-
FASHION + BUSINESS
I'm a useless entrepreneur.  Way too interested in the next thing, to concentrate on the same thing, I guess.
So who IS a great entrepreneur?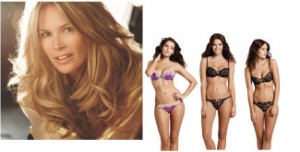 She is.  Elle who gives a whole new fabulous meaning to the term BODY CORPORATE.
And she's not the only one to realize there's cash in pants.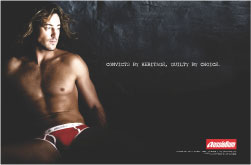 Sean Ashby was an Aussie beach Bum who took his idea of very small things to be worn by very big men to the departments stores and –he claims – you all said no.
Unlike Natalie Massenet, who maybe shed a little tear when she was knocked back, Sean probably spewed up a barrage of expletives.
Then got busy.  Millions and millions of internet-earned dollars busy.
The American summer blockbuster, opening May 2012, is Marvel Comics,  The Avengers, starring Robert Downey jr, Samuel L Jackson, Scarlett Johansson, Gwyneth Paltrow etc. In other words HUGE.
When the producers were casting around for the perfect fashion brand to appear as the shop in the background of a key battle scene, who did it choose?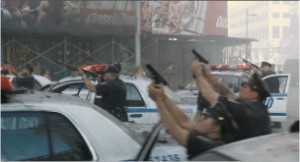 Not bad for a brand that has no bricks and mortar stores.
——————————————-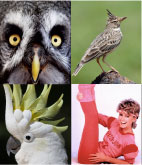 Spot the odd one out?
I interview a lot of fashion CEOs. Are they smarter than the rest of us? Not always.
But what does every single one of them have in common?
CEOs get up early.
They are larks – except when I asked Erica to source a picture of a lark, she said "what's a lark?" hence the sulphur crested cockatoo, although it squawks at dawn rather than sings melodically.
What else do CEOs all do?
They exercise.  I tell you, when I ask those Frenchmen in ties the work/life balance Q, it's then hard to stop them telling me how great they are at tennis… and skiing…and competitive yachting.. and horse riding…. And how many kilometers they jog.
99% of my writing is at night. I am an owl, which is, I tell myself anyway, what stands between me and running a company.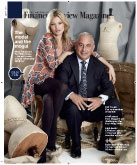 Still, it is good to know there is always an exception to the rule.
No, not the bloke. Topshop tsar, Philip Green has to get up early to catch the jet from his home in the tax haven that is Monaco. But savvy business woman and superstar, Kate Moss, joins me in often seeing the dawn – before she's gone to bed.
Although I suspect she's having rather more fun.
———————————————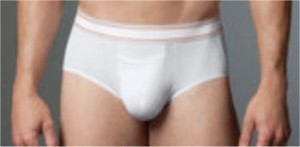 Here's a pixilated man in his pants.
I want you now to think about the provenance of the clothes on our backs, or in this chap's case, his front.
Why don't we ask more questions? We do when it comes to food. Is it because the fashion answers make us …uncomfortable?
The majority of the world's cotton is traded as a commodity, bundled together, which makes it difficult for us to trace where it was grown.  Some facts; Uzbekistan is the second biggest cotton exporter in the world. About 40% of it is picked by Year 11 teenagers, who are forced out of school for the harvest, alongside their teachers.
You want child labour with your knickers?
The internet does more than let us have everything we want delivered to our door. It allows allow us to ask and to act. Every fashion business wants to be seen to be doing good – some because they care, some because they fear the perilous price of a consumer boycott.
There's always somewhere else to shop.
So use that connectivity at your finger tips.
You think they won't listen? Then think of how the business of gemstones is cleaning up its act, due directly to campaigning, spreading information and then a rapidly declining for blood diamonds.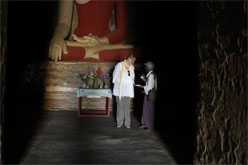 Here, I'm undercover in Burma – literally because I'm inside a temple illuminated only by very fast use of my photographer's flash, trying to investigate the trade in rubies which, while are banned from being imported due to sanctions against the Myanmar regime – still find their way, via Thailand, into the stocks of —some – well known jewelers.
When it comes to food, we try to buy organic, local, from a responsible source.  So translating that to luxury,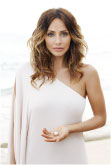 aren't we lucky here? Here's a Kalis pearl, cultivated in the pristine waters off our far north western shores.
And I do like a diamond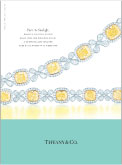 Australia is home to the Ellendale mine, where health and safety rules are tough. There are workplace initiatives to ensure the promotion of indigenous people. Men and women are equal –  so girls get to drive the really big trucks.
As to environmental commitment, Ellendale even has a wallaby relocation officer.
Tiffany & Co has the rights to the top grade fancy yellows from Ellendale.
Local with an international twist
And from the international jeweler that leads the way in barring all Burmese rubies, using no dirty gold and refusing to trade in coral.
What's not to love?
When I started as a fashion journalist, my ethics and my politics confused. How could I think the way I do yet love expensive handbags?
My answer is how could you favour cheap ones?
And especially fake ones. Fakes fund terrorism. Do think of that on that shopping jaunt to Bangkok or Bali.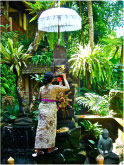 You think she's getting your dollars? Don't kid yourself.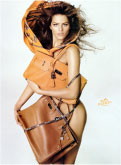 I do not own an Hermes Birkin, but when I can eventually afford one,  here's my argument for anyone who thinks me an airhead for wanting a heritage treasure crafted by well paid artisans.
To compare. What happened to your last mobile phone? The one you had to have then fell out of love with when they launched an even snazzier model? The one with – it's not unlikely – the copper for the connectors within that may well have been mined in Eastern Congo by trafficked slaves?
In contrast, Hermes artisans are supported by the family firm until the end of their lives – in Paris, there's even a club for "les anciens", the retired, where once a month the company shouts them lunch.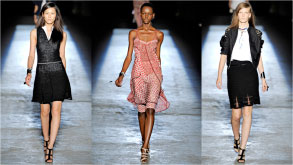 Here's  Edun where a manageable proportion of the collection is made in Africa, this making the fashion chain more fair.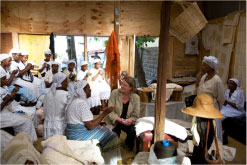 And here's me in Nairobi with the Crochet Sisters who made those skirts, asking questions about their working conditions.
And it all adds up.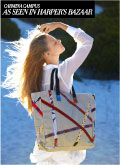 This bag is designed by Ilaria Fendi – of those Fendis – and made in East Africa with the Ethical Fashion Initiative.
Let's conclude with what I hope is fashion's most important trend. I consult for the United Nations agency, the ITC where I am honoured to work with Simone Cipriani, a world expert on poverty reduction.
His brainwave? To harness the unrivalled glitter and power of fashion as a vehicle out of poverty. How?  We connect the best designers in the world with the poorest of the poor for mutual, profitable and long term collaborations. We facilitate a system of business which allows designers to move a small but significant percentage of production, at fair wages, to those otherwise excluded or exploited.
The mantra is NOT CHARITY, JUST WORK.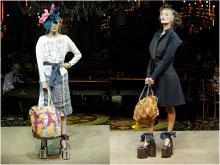 These bags, created in the slums that ring Nairobi, are shown on the Paris catwalk.
What's great? This isn't about pity purchasing, buying something because you think you should, then chucking it out on a one-way ticket to landfill.
The driving force in fashion – at every level – is –always — DESIRE.
Vivienne Westwood's fans want these bags because they think they are fabulous.
It's the ultimate gift with purchase that the bags also have a 100% ethical, environmentally sound backstory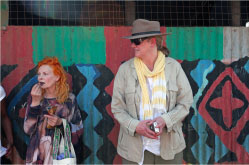 We're coming to the end of my stories, so those about travelling across Kenya with Dame Vivienne will have to wait.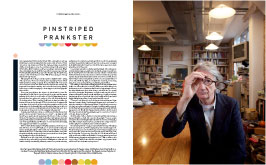 In any case, the wonderful thing about this job, is I'm always on to the next adventure. A few weeks ago, that meant hanging out with that master of classic with a twist, Paul Smith, whose first Australian store opens in Collins Street – here's a sneak peek of the AFR coverage out in March.
Thank you all for travelling with me through 25 years of fashion today.