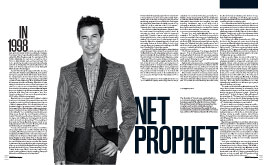 Net Prophet
The Business of Fashion: The man behind Yoox, Katie Grand's pyramid, Designer of the moment, China fashion week, ALT's exhibition
AFR Magazine | November 2011
By Marion Hume
In 1998, which was way back in the dark ages before global internet connectivity, the Australian 'success guru' Siimon Reynolds published a little book with the catchy title, When they zig, you zag . Two years later, in 2000, Federico Marchetti, who was born in a small town below Venice on Italy's Adriatic coast – and has never heard of the book – launched an innovative e-commerce business that has made him an industry titan. The planning that led up to the launch and what has happened since surely distinguish Marchetti as the ultimate 'zagger'.
A quick whizz through his zags goes like this: As a teen, while others did what they wanted, Marchetti, in the quest for his long term goal, did what he didn't want in the short term. An entrepreneur, he chose to launch into the online arena while living in a nation which, back then, boasted little expertise in internet technology. When did he launch? Just as the internet stock bubble was bursting. What did he do after asking his best friends to review a list of brand names? He chose Yoox – the one none of them liked. In 2008, as the financial crisis roiled markets, an undeterred Marchetti started the process of taking his global internet retailer public. Fast-forward to 2011 when, in the six months to June, Yoox Group's net sales rose 36 per cent on the previous year to €131.2 million. All this by never going zig.
Marchetti (not to be confused with the Italian footballer) doesn't even look the part. He is nervy and intense and when he speaks he sounds more like a literature professor than one of fashion's category shifters. As for his style, there isn't even the status indicator of an expensive watch – instead no watch. And swagger? None. Marchetti hates socialising, preferring to stay home reading books and eating minestrone. What did he do the night after Yoox successfully went public after a nail-biting run-up through the worst financial meltdown in decades? He went home and had soup. Damn it but – working two days a week in Milan, two in Bologna, the rest wherever needed – he doesn't even drive a Ferrari. "I'm not a big fan of these symbols," shrugs Marchetti, having ordered us two single, tart espressos when we meet in Florence, where he has travelled by train, as he insists all his staff do too.
You may not have heard of Yoox and you wouldn't be alone; many in fashion who are all-too-familiar with its key competitor, Net-a-Porter, haven't heard of it either. Yoox is headquartered in Milan and has a vast warehousing complex at Interporto near Bologna as well as logistics centres in New Jersey, Shanghai and just outside Tokyo. In the past decade, Yoox has shifted more than 1 million shirts, 800,000 pairs of shoes and 700,000 pairs of jeans to more than 100 countries by either same-day or next-day delivery (the company's biggest single expense is its UPS [United Parcel Service] account). Yet the man behind it all is low key. "I hate networking," he says. "I think it's the worst. When I don't work, I stay home by myself or with my girlfriend. I don't do anything. I hate people that need to meet other people to feel important."
Federico Marchetti has always judged only one person's view to be important: his own. Even as a boy he knew that what he wanted was to be the king of a single big idea. He has been astonishingly pragmatic in accomplishing this. Claiming that his independence, determination and clarity comes from "my childhood", he then adds that neither of his parents – "cultured people" – had any entrepreneurial spirit at all.
Yet even at school, Marchetti gravitated to subjects he didn't like much because he thought they would be useful. At university, he picked economics while his heart said psychology. "I wanted to learn as much as possible in the shortest possible time in order to make the fewest possible mistakes," is how he puts it now. So, after leaving home at 19 (unusual in Italy, where undergraduates tend to live at home) and reading business at Bocconi, Milan, he took jobs in corporate finance and management consulting, got an MBA from Columbia, New York and then, eureka!
It was late in 1999 and the first big fashion internet start-ups were pressing panic buttons because they were about to tank. Yet Marchetti knew, with certainty, that gold lay in marrying fashion's exclusivity with the accessibility of the net – not in the US, where he had been living, but back in Italy, then a country with minimal I know-how, yet world famous for its fashion.
First, Marchetti found venture capital funding from the US, then he joined forces with a bricks and mortar store in Bologna, taking stock on consignment and selling it online. Next, he started cultivating big fashion names, acutely aware of how sensitive they were to selling in an arena which, back then, seemed somewhat downmarket. So he worked with them to shift end-of season stock on the multi-brand site of yoox.com, never obviously "on sale" but instead at a "Yoox price"
Then he persuaded some of the mightiest brands to use Yoox's established logistics, warehousing, customer care, to create their own mono-brand online stores, powered by Yoox. Valentino, Giorgio Armani, Jil Sander, Roberto Cavalli, Dolce & Gabbana, Alberta Ferretti, Moncler are just a few of the leading fashion brand websites where everything – from radio frequency identification tags, to the studios full of photographers taking the pictures – is done by Yoox, which then supplies customer demand in more than 100 countries from hubs on three continents. Yoox started in menswear and now covers womenswear, kids, home, even pets.
The name Yoox came, recalls Marchetti "from my own imagination. The Y and the X are like the chromosomes for men and women; that's why we are so good at talking about men and women – it is part of our DNA – and then the OO is also like the DNA of the internet, because it's the zero from the binary code." Marchetti had a list of possible names, "and I asked friends and everybody liked brands that were more common … I realised they liked the past, I liked the future, so I picked the one no one chose".
"And it's very contemporary. If I go to Japan, they think it's Japanese. If I go to China, they think it's Chinese. If I go to America, they think it's American. It's very neutral, very global and I never wanted to be a local player." He adds: "I consider myself a miracle. Every day when I wake up, I say thank god for this gift of knowing what I want."
Starting with menswear proved a competitive advantage; the long-held belief in the luxury business that men hated to shop left the category more open. Online, it soon became clear that without the fuss of sales assistants, in anonymity and with a "no questions asked" returns policy, men were keen to buy.
After more than a decade of e-commerce, it can be assessed that, while men rarely browse and are not frequent purchasers when they do shop, they buy more and often at the beginning of the season rather than waiting to purchase on impulse in the sales. Yoox research shows Americans buy the most bow ties, the French like hats and Italians prefer briefs to boxers. Irrespective of nationality, men like black, navy and grey, although the Spanish also like red. Swedes and Norwegians are most likely to tick the eco-shipping option.
Yoox offers all the basics and the big brands. For those of more esoteric tastes, thecorner.com, launched in 2008 for men and a year later for women, is a series of mini boutiques, each highly customised in keeping with the brand messages of cutting-edge designers including Viktor & Rolf and Hussein Chalayan. Designers such as Ann Demeulemeester, Haider Ackermann and Dries Van Noten choose thecorner.com as their official internet retailing partner.
Yoox's listing on the Milan bourse at the end of 2009 was the first in the European tech sector since the financial downturn, and Marchetti admits there was a time when he felt he was running towards a cliff not knowing if he would take flight or tumble. "I did have a very strong feeling it was the right thing to do," he says now, although he admits advisers (Goldman Sachs and Mediobanca were the co-ordinators of the sale) told him they might suddenly suggest he call a halt. The high pricing came as a collective relief.
Right now, as the Italian economy wobbles, that Yoox Group is both international and nimble is a considerable advantage, especially for a company with a vast warehouse in Shanghai. China's online adventures are just beginning. McKinsey research shows that while more than one-third of the world's most populous nation are web users, less than a third of that number have started shopping online (against a global average of 86 per cent), implying considerable upswing ahead, even in a nation where the likes of Armani Group already has close to 200 real-life stores. The other area of growth, albeit much smaller, says Marchetti, is Australia, thanks to a hunger for international luxury goods and a robust economy. "It's not big, but it is significant as one of the highest-growing markets for us. In the last couple of years, it has grown 10 times over," he says.
To a question of life-work balance, Marchetti responds: "It's easy to answer because fortunately or unfortunately, I don't consider what I'm doing to be work. It's not work, it's my child that I'm very proud of; it's part of my style – I put a lot of myself into it." Yet he is, he claims, "quite well balanced" about switching off. "This year, I went on holiday with some friends and I took four days off. Friday, Saturday, Sunday, Monday, four days in Greece and I turned [my BlackBerry] off." He adds that, for the first two hours, it was hell.
He tries to trade in as ecological a manner as possible – ECO_mmerce as it is referred to in Yoox-speak – to the point where there's a complete 'green site' within the site, called Yooxygen, dedicated to ethical fashion. The industry-wide challenge is that some of the clothes on offer in this niche are less than enticing (a notable exception being Vivienne Westwood's snazzy 100 per cent ethical bags made in Africa with UN agency ITC. But as I consult on the project, I would say that, wouldn't I?)
Marchetti says regretfully he doesn't think ethical fashion will become just'fashion'- that all fashion will have wised up to ethics-any time soon. "It is a niche," he says and one where Yoox may face competition when ex=Barneys New York buying guru, Julie Gilhart, who had impeccable 'green' credentials, finds her feet in her new role as fashion consultant for amazon.com. Still, Yoox scores marks for its ecobox packaging, which is made using cellulose gathered under environmentally socially and economically sustainable conditions.
Yet in cyber world, things get ever more glossy, as brands sign movie stars and tap Hollywood special effects guys, such as Avatar's James Lima, to bring more bang. "We are still so close to the beginning of the story," says Marachetti who tells me his favourite activity away from work is "nothing. I get all the adrenalin I need with Yoox" (having conducted this whole interview on just one small sniff of Florentine coffee). "Elsewhere in my life, I don't look for more."