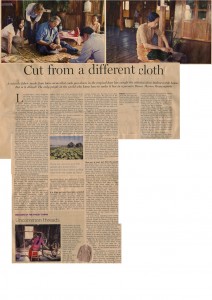 Financial Times | March 2011

Cut From A Different Cloth
by Marion Hume
Last September, I had a telephone call from Pier Luigi Loro Piana. He heads the family business that bears his surname – an Italian textile group with 135 stores in prime addresses, including London's Bond Street and Avenue Montaigne in Paris. One of its coats can cost £5,000, a sweater £500.
This sixth-generation family firm is led as a job-share between Pier Luigi, 59, and his brother Sergio, 62. While both run the business, the younger brother also searches worldwide for the best raw materials that can be turned into yarn.
Loro Piana wanted to tell me about a new project. He had found a community that makes a fabric that cools down the wearer (perfect for the humid cities that are home to the emerging ultra-rich). This, he said, was new to the west, yet legendary in the Asia – but the know-how to weave it was almost lost. Just one isolated community was left with the skills to make it, and they live on houses on stilts on a lake. I was spellbound. He wanted me to go out there with him, to take a look for myself. Then he told me the village was in Burma.
There are many reasons to avoid doing business in Burma. It is run by a repressive military junta, practically unchanged since 1962. Sanctions were first imposed by the US in 1993 and the European Union in 1996. The EU extended its measures in 2007 after anti-government demonstrations led by monks in Burma were quashed by force.
Reporters without Borders ranks Burma 171st out of 175 countries in the world in its Press Freedom Index (only Iran, Turkmenistan, North Korea and Eritrea fare worse).
Although trade in textiles with Burma is not barred by the EU, almost nothing is allowed into the US from Burma. (It makes an exception for teak, when used in decking by American boatbuilders.)
Loro Piana is aware of the moral dilemma of doing business in Burma. In an e-mail to me, he wrote that by finding out more about the country, "We can be more sensitive … Our venture is directed to the … 'informal economy' represented by the majority of the local population, and mainly supported by agriculture and craftsmanship."
I said I would not even consider such a visit until Aung San Suu Kyi was freed. The Burmese opposition leader had endured almost 15 years of incarceration. Then, last November, she was released from house arrest. I recognise that this alone does not make Burma a place to visit lightly. And so I canvassed activists and correspondents based in the region, and was pleased that they felt, as I did, that I should now go to Burma, if offered the chance. (Still, such is the sensitivity of the subject that most of my contacts were unwilling to be quoted on the record.)
Mark Farmaner is a director of human rights group Burma Campaign UK, which has called for targeted sanctions against the regime. Of the Loro Piana project, Farmaner says: "In principle, we have no objection to this. There was never a call for total sanctions against Burma. It is always about targeting the generals and their business cronies."
So I accepted Loro Piana's invitation to inspect his "miracle fabric".
I have been a fashion journalist for 20 years – some of them at the Financial Times – but two years ago I also took on a consulting role with the Ethical Fashion Programme of the International Trade Centre, a joint body of the United Nations and the World Trade Organisation. My role is to forge links between the best-known labels and the poorest people of sub-Saharan Africa. In my visa application, I wrote "fashion consultant". However, I also have a US journalist visa in my passport, which the Burmese embassy held for weeks and returned, visa granted, with departure only days away.
It is 10am and Loro Piana looks somewhat rumpled. We had arrived in Rangoon (renamed Yangon by the junta, which also renamed the country Myanmar) the night before, and this morning we had flown onwards to Helo, in eastern Burma. Now we've just travelled a further hour by bumpy road. Yet Loro Piana's jacket, a prototype made of the fabric we are here to see, looks pristine. "See – it doesn't need ironing. Unlike me," he jokes as we clamber into a longboat. We pull out of the reeds on to the expanse of Inle Lake, ringed by mountains. The Intha people subsist by fishing and by growing vegetables on floating gardens built using bamboo and lotus flowers. It is those lotus flowers, or more accurately, their stems, that are made into the magical yarns.
We arrive at a thatched house standing on stilts, the kind imitated by watery five-star resorts across Asia. Access is via a rickety pontoon of bamboo poles and wobbly wooden stairs. Once inside, the co-chief executive of a company with a €480m turnover squats down on the floor next to a woman who is extracting sappy filaments, each about one metre long, from lotus flower stems – which is a painstaking process. Another woman rubs the filaments together at extraordinary speed. A third woman sits spinning yarn using a contraption made from wooden bobbins and an old bicycle wheel. Loro Piana scrunches the finished yarn in his hands.
It is his second visit to Inle Lake. He first came a year ago, having learned from a Japanese friend that lotus flower cloth was still being woven here. His friend urged him to save the craft from disappearing forever. The textile baron instantly saw the potential of the Nelumbo nucifera that grows here: it is, among other astonishing properties, featherlight, "slubby" in appearance (like linen), wonderfully cool and also of a good natural colour. Some 26,000 stems are needed for one blazer.
There are, at most, just 300 Intha people who know how to harvest the wild lotus flower stems (they must be pulled from the water by hand – never scythed, which kills the root). About 200 others know how to extract the filaments and process these to skeins, which must be done within 24 hours of picking to prevent deterioration. Lotus flower robes were once worn on ceremonial days by the most senior monks, but they have had to find a cheaper alternative.
When Loro Piana first came to Burma, the fabric was being made into pricey scarves for the few tourists who visit the country. On that first trip, he guaranteed to purchase all the fabric. "This is a key point in the success of the project," he says. "We commit to buy, not from time to time, but everything. We pay in advance."
There are four looms operated by women using foot treadles. This involves passing shuttles under the warp threads, back and forth by hand – but they can do so for no more than four hours a day, which equates to about an inch of cloth. Loro Piana is not pushing for more production, mindful that it might force the youngest teenage girls into working at the looms rather than attending school.
Is Loro Piana exploiting these workers? The UN calculates that the living wage for a manual worker in Burma is $1.20 per day. Those working here are skilled. My guess is that they earn at least five times that figure. However, as the project is in its first season, there are no reliable records of pay yet.
There is a whiff of change in Burma – not regime change, but the feeling that the country, so rich in rubies, oil and teak, is about to re-open for business. Thai entrepreneurs are pushing for road development along the two countries' shared border.
Still, the Burmese officials who granted us visas knew what we were doing in the country – at no time were we "off radar" – we were accompanied at all times by an English-speaking official guide.
The position on sanctions is still complicated. In a speech to the World Economic Forum in January, Suu Kyi said Burma needed ethical foreign investment, but a report from the National League for Democracy, the party she leads, recently concluded that sanctions should remain in place for the time being.
In Burma itself, strangers can be bold, despite the dangers of speaking out. "Our government has a suicidal policy, if I may speak frankly, of stopping people from coming here. Thank you for ignoring it," someone told me in Rangoon.
Loro Piana admits that he was not especially clued up politically before he began working in Burma. Now, though, his project is helping a few more communities to join the lucrative fashion value chain. The indications are that they will be properly rewarded for doing so, and in decent working conditions.
As Mark Farmaner of Burma Campaign UK puts it: "This is the kind of trade, working with ordinary people, preserving traditions and culture, and paying accordingly, that we support. It is the large-scale, low-wage element of the clothing sector that is a problem."
Was I right to go there? I think so.
"These are delicate times," Loro Piana says to me. "But I believe what you have seen is positive and it opens your eyes."