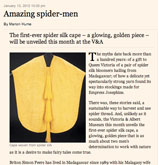 Amazing spider-men
The first-ever spider silk cape-a glowing, golden piece-will be unveiled this month at the V&A
The Financial Times | 15th January 2012
By Marion Hume
The myths date back more than a hundred years: of a gift to Queen Victoria of a pair of spider silk bloomers hailing from Madagascar; of how a delicate yet spectacularly strong yarn found its way into stockings made for Empress Josephine.
There was, these stories said, a sustainable way to harvest and use spider thread. And, unlikely as it sounds, the Victoria & Albert Museum this month unveils the first-ever spider silk cape, a glowing, golden piece that is as much about two men's determination to work with nature as it is a desire to make fairy tales come true.
Briton Simon Peers has lived in Madagascar since 1989 with his Malagasy wife Ange and their two sons. He gave up a job as an art dealer at the Fine Art Society in London to move to the Malagasy capital Antananarivo (known as "Tana"), to reinvigorate the business of Madagascar's exquisite silk traditions (this from silkworms, not spiders). He imported looms from Yorkhire to create jacquards, passementerie and embroidery of Versailles standards of craftsmanship. The world's leading decorators, including Peter Marino, Robert Couturier and David Mlinaric, have become loyal customers.
Peer's partner is American Nicholas Godley, whose grandmother was born in Madagascar. He arrived in 1993 as a development economist to work on raising living standards in one of the world's poorest countries. Then he set up a handbag label, Majunga, employing hundreds and using native raffia,and sold bags to Neiman Marcus and Saks.
Peers and Godley had been friends for years when, one day in 2003, Godley asked about a strange contraption on a shelf in Peers' office. "I told him it was for extracting silk from spiders," recalls Peers. Godley was more than intrigued; he was determined to push Peers to turn a daydream into reality.
Peers was obsessed with the island's large female golden silk orb-weaver spider (Nephila madagascariensis), famous for creating the most symmetrical and concentric of spider webs. He's come a tale of how Paul Camboue, a French Jesuit priest, had tried to extract spider silk and how these efforts had attracted the attention of a 19th-century French colonial administrator called Nogue (his first name lost to history), who was looking for industries to set Madagascar apart from other francophone colonies. It was Nogue who had designed the machine Peers had on his shelf- a guillotine-like trap (although its occupants emerge unharmed) that could hold eight spiders while the threads were pulled from their bodies on to a bobbin.
"Think of the times you have brushed a spider off your sleeve," Peers says. "You flick and it falls but is still attached to you by a silken thread. The silk comes out without any problem."
At the end of the 19th century, such was the excitement about the possibilities for spider silk that spider catching was considered a top job for locals in Antananarivo. There was even a technical college there, set up to train spider silk weavers. In 1900 a set of Malagasy spider silk bed hangings, now lost, was exhibited in Paris. But enthusiasm waned, not least because of hte challenges of lodging and feeding hundreds of thousands of carnivorous cannibals needed for every yard of silk. Spider silk also turned out to be at least 2o times more costly than the "boil in the bag" method by which silkworms dies to release a strand of thread.
A century on, however, Peers and Godley decided to give it another try. In 2004, they started "silking" spiders and by Novermber 2008, the elusive silk became reality. "Having silked over a million spiders, we are transforming the resulting stock into a singer unique and extraordinary golden textile," Peers says.
The challenge of food and lodging was solved by using only females, brought to the silking facility each morning by a team of 80 spider catchers and then released into the wild later that afternoon.
In 2009, Peers emailed me to say: "We are making this extraordinary cape. Homage to the spider. And apart from another-probably apocryphal story-of a suit of spider silk clothes made for Louis XIV, this will be the first time any serious piece of clothing has ever been attempted."
Three years on, he calculates that the weaving, embroidery and applique of the cape has involved 6,000 human hours, while at least 1.2m spiders have been employed. Each of the hundreds of thousands of warp and weft threads comprises 96 individual strands of spider silk in the ground weave of the decorated panels and 48 individual strands for each thread in the lining. each pass of the needle to create the embellishments of appliqued spiders scuttling over flowers required 96 strand threads. The golden glow is the natural colour of the silk.
Peers and Godley have no ambition to find a more industrial application for their breakthrough. "Our objective has not been just conquering the technical challenges, but also to engage people with an emotional and intellectual experience," says Peers. "This lengthy and arduous process is the antithesis of the brief, ephemeral life of a web." The result, they hope, will live on, and not just in stories.
'Golden Spider Silk', V&A Studio Gallery, January 25-June 5