From the vast, goat-populated plains of Inner Mongolia, 'cashmere princess' Jane Wang is spinning a winning formula of handcrafted luxury knitwear and strategic business savvy. By Marion Hume, Business of Fashion September 2014.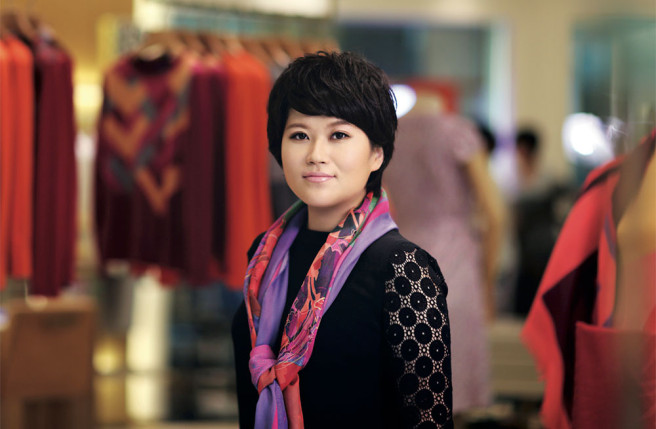 ORDOS, China — The sweeping plains of Inner Mongolia are not the first place you'd look for signs of the next international luxury brand. But before you dismiss any notion that a significant label could emerge so far from the fashion world as we know it, a flashback through history: it was from here that Genghis Khan used the element of surprise to forge an empire that would dominate huge swathes of the then-known world.
That a true luxury brand will come out of Greater China (as opposed to all those who have gone in) has been anticipated for some time, although our sights have been set on Beijing and Shanghai. If, instead, we look North, to where the land seems endless and empty except for the goats, it is those many (many) goats that are the clue to probable success in the West.
Let's take a bird's-eye view of the most populous human settlement in these parts, the towering (although still somewhat sparse) city of Erdos, also written Ordos. (As to why there are two spellings, maybe it has something to do with translating ᠣᠷᠳᠣᠰᠬᠣᠲᠠ from Mongol, 鄂尔多斯市 from Chinese). Erdos means "Palace of Tents" and it is a company town.
That company, founded 35 years ago, is also called Erdos and it accounts for over one-third of the world's cashmere production. Erdos used to supply Hermès, Burberry and Loro Piana; that it no longer does is due to its own requirements for 3,000+ eponymous stores across China. As for rolling a brand into the West, Erdos can certainly afford it. The Erdos Group (which also includes energy and metallurgy) is valued at approximately 60.8 billion RMB ($9.5 billion).
Shall we meet the cashmere princess?
Jane Wang doesn't love her nickname but because her father, the Erdos founder, is often referred to as "The Cashmere King," his only child is stuck with it. Just like a princess in a story book, Wang's favourite colour is pink and she spends her life spinning. But this is a modern fashion fairytale. Our princess is not in an ivory tower but down on the factory floor, using the Masters in Engineering she earned from Cambridge to achieve her heart's desire: the most luxurious cashmere fibre on earth.
As to the time frame, we start in 2004, with Wang (who is 34 today) departing from Cambridge. A prized possession was a sweatshirt featuring the University motto translated from the Latin to read, "Open your Mind". By 2006, she was working with the technicians at Erdos, who tried to remind her that one gram of cashmere could be spun to a maximum length of 48 metres. "What I learned from the UK is how you should always be curious and willing to change," she recalls when we meet for tea, not in Inner Mongolia but in a hotel in Central London.
Wang recounts how she persuaded Erdos technicians to push further, to see how fine the best fibre (combed — very precisely — from the shoulder and flanks of one-year-old baby Arbus goats) could go, achieving 60 metres, 80 metres, 100 metres in length per gram. (It can now be spun to 120 metres.) However, the equation is not as simple as 'the longer the better'. The best cashmere yarn needs to be resilient yet soft, and the diamond measure is fibre that is less than 14.5 microns in diameter yet still robust. (The math isn't simple to grasp. It goes something like this: 14.5 microns x 36mm length fibre taken to as long as you can spin it without losing quality.)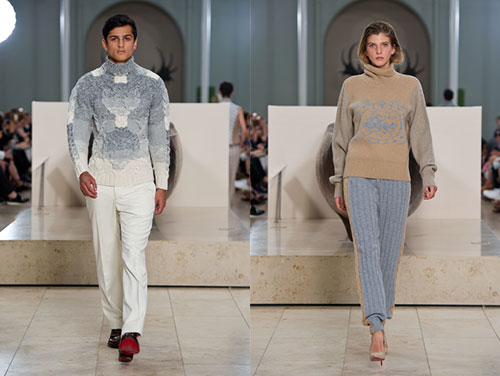 With these high counts, Wang and the technicians, achieved a cashmere that is peerless in delicacy. Once achieved, she called her formula 14-36.
With that technical challenge cracked, Wang's next ambition was to create, quite literally, a spinoff brand, one that would use only the finest "baby cashmere" spun to that magical 14-36. "Because the Erdos brand is so strong in China, I thought we ought to start a new brand," she recalls, referring to one in which the ambition would be to be as upscale as the top Western luxury brands. "We have 20,000 people working at Erdos. We choose the best 200 to handle the yarn that is 14-36. They are very happy and proud to do it."
The name of this brand? Wang went with the numbers — 1436 — a logical choice.
Of course, if you want to woo the fashion crowd, you need more than a winning spinning formula. Wang, who admits, "I am not a very creative kind of person; I'm more like a management, strategy kind of person," went looking for a fashion designer. In 2011, she appointed Graeme Black, the former creative director of Ferragamo, ex-Giorgio Armani, ex-Hugo Boss, to give 1436 its aesthetic vision. That Black is Scottish is a considerable added bonus, given the Scottish cashmere story, with which he is very familiar, always begins in Inner Mongolia.
Last July, 1436 made its international debut with a fashion show in Edinburgh, thus emphasising the two nations' over 200 years of shared cashmere history. The audience comprised roughly a third from across Scotland; a third from London, Amsterdam, Stockholm and other Europe cities; a third from China. A broad collection of men's and womenswear was presented. Traditional Asian embroidery patterns were rendered in knitted intarsia and complex jacquards. While much of 1436 is made — beautifully — in China, skilled hand-knitters from the Scottish Highlands and Islands created couture-crafted pieces. Also unveiled in Edinburgh was 1436 packaging in the rich turquoise of imperial porcelain, with the numbers rendered in calligraphy.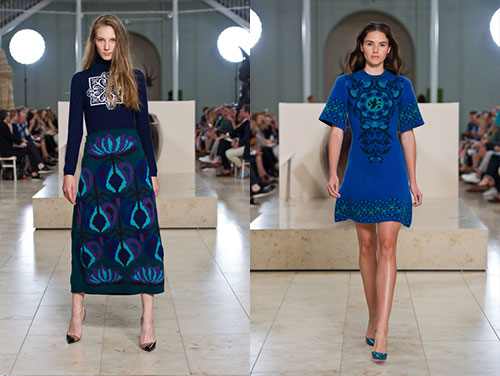 Could 1436 be the Chinese breakthrough we've been waiting for? Wang is confident. "We have the resources and good opportunities to be a world brand, the same as the Italians, the British," she says. Certainly, when you run a checklist — raw luxury source, production, technical, retail and business expertise, design smarts and of course cash — it is promising. That 1436's founder is the scion of a Chinese textile behemoth who speaks excellent English adds benefit.
1436 products are established as the national gifts China presents to Heads of Foreign States. With the Edinburgh show, it went far further in polishing an international identity. "I think we could be in that great category," says Wang. "Of course we're not there yet; we're still a young brand but I think we can." As for whether the tastemakers will take to it, fashion's famous early adopter, Joan 'Mrs B' Burstein of Browns has already been spotted sporting a 1436 scarf.
Jane Wang's next strategy is to plot the steps to a roll-out of 1436 stores into Western cities. No word yet on where or when they will open (there are already 40 stores for 1436 within China). In the meantime, watch this space. And keep an eye on Inner Mongolia.