Tag Archives: Francois-Henri Pinault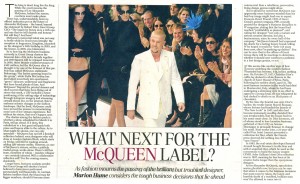 The Telegraph | February 2010
As fashion mourns the passing of the brilliant but troubled designer, Marion Hume considers the tough business decisions that lie ahead.
The king is dead, long live the king. While the court mourns the passing of Lee Alexander McQueen, behind the scenes, courtiers must make plans.
There has, understandably, been no official indication yet on the future of Alexander McQueen – the brand, beyond the statement by Robert Polet, Gucci Group CEO: "The legacy he leaves us is a rich one, and one that we will cherish and honour." But will they? And how?
McQueen's mercurial talent was not easy to bottle while he lived (even literally: the reception to fragrances, Kingdom, launched on the designer's 34th birthday in 2003, and My Queen, in 2005, was lukewarm).
As to how big the McQueen business currently is, Gucci Group clusters the financial data of its niche brands together and 2009 figures will be released tomorrow. In 2008, these brands totalled revenues of £442 million, but the McQueen slice is thought to be one of the thinnest of that pie. Polet has called McQueen stablemate Balenciaga "the fastest-growing brand in the group", while Stella McCartney has diversified inventively into sportswear, "green" skincare, underwear and fragrances that have found plenty of fans. And McQueen? Beyond the printed dresses and skull scarves that have been flying out of stores this week, a USP included a brave positioning at the cutting edge of technology through hologram imagery and streaming catwalk shows live on the internet, this to embrace seismic changes in the fashion landscape. Had he lived, McQueen could have proved the pioneer in monetarising some sort of live-stream experience. But without his vision, that won't happen now.
The chatter among the fashion pack is whether a show, scheduled for March 9 in Paris, will go ahead. If it does, this valediction to a lost great will pack both press and buyers alike to the rafters. As to what might be shown, one can only speculate – McQueen has not left a finished collection behind; even designers who will show at London Fashion Week, which starts on Friday, will still be rushing around, adding last-minute outfits. However, no one of McQueen's stature, within a publicly traded group, works alone. There's still his team, members of whom – insiders whisper – are certainly talented. Will a collaborative collection sell? For the coming season, absolutely.
Longer term, business analysts predict that Gucci Group will shutter a brand believed to have never performed spectacularly well financially. In contrast, fashion insiders think the brand may hit bigger numbers, should it become more commercial than a rebellious, provocative, living design genius might allow.
But it should be noted that McQueen was apparently more business-minded than his bad-boy image might lead one to expect. François-Henri Pinault, CEO of Gucci Group's parent company, PPR, recently praised the designer's business discipline to W magazine, stating that the brand had reached "profitability as planned", and calling the designer "not only a mature and serious creative director, but also a businessman, since he owns half of the company." McQueen himself had expressed his desire for a lasting luxury brand, telling W he hoped it would be "here 150 years from now, after I'm pushing up daisies". You can be sure that in the offices of Gucci Group there will be meetings to determine whether it should now construct a pedestal to a lost design genius, or not.
If this seems like another sign of how money-grubbing the modern fashion business has become, it is, in fact, nothing new. On October 27, 1957, Christian Dior's coffin lay decked in white flowers in the church of Saint-Honoré d'Eylau, Paris, following his sudden death, aged 52. The most famous couturier in the world had died in Montecatini, Italy, where he had been undergoing a slimming cure in an effort to appeal to a young beau. (It was whispered he had choked to death on an illicit piece of chocolate).
By the time the funeral was over, Dior's backer, the textile baron Marcel Boussac, whose fortune had funded the launch of "The New Look" in 1947, and who had become immensely wealthy, decided Dior was irreplaceable, that the house built in his name must close. So Dior licensees, all of whom stood to lose lucrative business, gathered at Dior's HQ on Avenue Montaigne to persuade Boussac to change his mind. Nine weeks later, a 21-year-old called Yves Saint Laurent presented a collection for Dior, which the French press decreed did nothing less than "save France".
In 1983, the real estate developer Bernard Arnault bought Boussac's textile firm and with it acquired Dior, which he used as the cornerstone to build the luxury empire LVMH. John Galliano's first Dior collection was in 1997, meaning he has been at its creative helm longer than the eponymous designer.
As for Alexander McQueen, speculation seems ghoulish now, but you can be sure that when it comes to the business decisions that must soon be taken, the lonely and horrible death of a troubled, brilliant man won't be allowed to come into it.