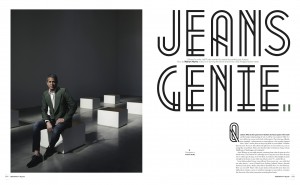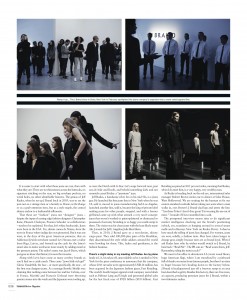 Jeans Genie

J Brand founder Jeff Rudes wanted to create the perfect pair of jeans. Now, as Marion Hume writes, he is turning the denim brand into a fully fledged fashion label.
The Australian Financial Review | March 2013
Subsequently published in Business of Fashion
Question: What do the queen bee of fashion, the future queen of the realm and the longest-reigning king of rock 'n roll have in common? Hint: it is not a label you can see on the back of their jeans. This is because J Brand, jeans megalith, a phenomenon so extraordinary it has actually changed what "jeans" means, does not slap a big label on your behind. Call these discrete jeans. If you are old school and right now, in your mind's eye, you are seeing blue, scratch that. That is not what the editor of American Vogue or Kate Middleton or Mick Jagger are looking for.
Anna Wintour is, one might surmise, exacting aboutwhat she puts on to her slender form. The Duchess of Cambridge faces a long lens even when she pops out to walk Lupo the dog. As for Sir Mick, he embraces the limelight in pants too tight to be decent on any other man about to turn 70 – and he likes it.
Every fashion editor I know wears J Brand. Every movie star – no, really, find one who doesn't – wears J Brand: Ryan Gosling, Julianne Moore, Amanda Seyfried, Sarah Jessica Parker, Mad Men's Elisabeth Moss. So does Rihanna.
How can you tell? That's when it gets harder. J Brand sells more than two million pairs of jeans a year, yet somehow manages to seem niche in a manner that has most of the other jeans giants scratching their heads.
It is easier to start with what these jeans are not, than with what they are:There are no rhinestones across the buttocks, no signature stitching on the rear, no big envelope pockets, no weird holes, no other identifiable features. The genius of Jeff Rudes, when he set up J Brand back in 2005, was to see the jean not as a vintage item or a homily to Home on the Range or as a grab-attention item, but as a style staple, the central skinny anchor to a fashionable silhouette.
That these are "fashion" jeans not "designer" jeans – despite the input of cutting edge fashion designers Christopher Kane, Hussein Chalayan, Proenza Schouler as collaborators – needs to be explained. For that, let's whizz backwards. Jeans were born in the USA. Yes, denim comes de Nimes, from the town in France where indigo dye was pioneered. But it was out west, in the days of the great American pioneers, that an Ashkenazi Jewish merchant named Levi Strauss met a tailor from Riga, Latvia, and fronted up the cash for the latter's smart idea to make work wear more sturdy by adding metal at the pressure points. The tailor's name was Jacob Davis, which just goes to show that history favours the investor.
Along with Levis have come as many cowboy brands as you'd find on a cattle ranch. Then came "poor little rich girl" Gloria Vanderbilt, the face – or more specifically, the arse – of the first true designer jeans. As a teenage Brooke Shields was claiming that nothing came between her and her Calvins, over in France, Marithé and Francois Girbaud were throwing pumice stones into the wash and the Japanese were tooling up, as were the Dutch with GStar.
Let's surge forward now, past sass & bide and Ksubi, and behold something dark and not remotely casual Friday: a "premium" jean. Jeff Rudes, a handsome silver fox in his mid 50s, is a jeans guy. He launched his first jeans line in New York when he was 18, sold it, moved to jeans manufacturing hub Los Angeles, launched another line, sold it, became the king of private label making jeans for other people, stopped, and with a former girlfriend came up with what seemed a very novel concept: jeans that weren't washed or paint-splattered or destructed or possessed of screamy branding or so baggy you could camp in them. The vision was for clean jeans with the least likely name (the J stands for Jeff). Angelina Jolie liked them.
Then, in 2010, J Brand gave us a non-denim, skinny cargo pant. They sold 300,000 plus pairs of the Houlihan, then discontinued the style while addicts around the world were howling for them. This, ladies and gentlemen, is the fashion business.
There's a slight delay in my meeting Jeff Rudes. As my plane lands in LA, his takes off, unavoidable as he is needed in New York for the press conference to announce that the company, whose 2011 net sales were approximately US $124million, has been acquired by the Japanese fashion giant, Fast Retailing. The world's fourth largest apparel retail company owns labels such as Helmut Lang and Uniqlo and generated global sales for the last fiscal year of ¥928 billion ($9.8 billion). Fast Retailing acquired an 80.1 per cent stake, meaning that Rudes, when I do meet him, is a very happy, very wealthy man.
As Rudes is heading back on the red eye, international sales manager Robert Brown invites me to dinner at Soho House, West Hollywood. We are waiting for the barman to fix our eastern standard cocktails before taking our seats when a man walks in, eyes Brown's J Brand-clad legs and utters the line: "Are those Tylers? Aren't they great? I'm wearing the ass out of mine." I wonder if I have stumbled into a cult.
The postponed interview means time to do significant market intelligence checking out the brand's positioning (which, yes, translates as hanging around in several smart malls and in Barneys New York on Rodeo Drive). I observe how much the selling of jeans has changed. For women, jeans are now, solidly, a fashion item. Men have taken longer to change gear, simply because men are so brand loyal. When I ask Rudes later who he wishes would switch to J Brand, he bats back: "Brad Pitt". The PR cuts in: "Brad wears them, Jeff. Remember, riding the motor cycle?"
We meet in his office in downtown LA (worn wood floors, huge American flag), where I am transfixed by a pin-board full of thank you notes from famous people, but there's no time to linger because he's heading down to the factory below. J Brand is headquartered just off a freeway ramp in an area best described as gritty. Besides this factory, there are five more, at capacity, producing premium jeans for J Brand, within a
two-kilometre radius.
Rudes rubs his hands over bolts of denim. He gives an impassioned speech on the importance of ironing, transfixed as a big guy tackles a seam: "You couldn't do it with a machine, you wouldn't be able to press these seams and keep them apart and the distance from both equal. You could easily buy a machine but you lose the integrity."
The factory is unusual in that the majority of workers are men; the tailors, the pressers. That they just do their thing while the boss is nearby indicates he is nearby all the time. Back upstairs in his office, Rudes is charming, engaged, yet you do get the sense that he wishes there was a trap door under his chair that could just flip him back down to where the action is.
As to the big new business action, he is excited. "We've moved very slow and cautious," he says. "That's why it took eight years when most brands would have [expanded] sooner. We are very focused on what we are doing."
The expansion includes pumping up a full ready-to-wear line – tops, coats, jackets – launched quietly last year, with creative director Donald Oliver. From now on, that will be going at full bore. "Now everything will move faster, because the market perception is 'you guys grew up'.We will be seen as a fashion brand. There will be flagships, there will be growth."
While other businesses rely on data, fashion fairy tales start with a hunch. The denim market is crowded, was crowded eight years ago when Rudes' faith was with the opposite of what was "in" at the time. "For us, it was always about dressing a woman in a chic way," he says. "I had experiences in the jean space and knew it was the moment to change."
J Brand has pushed skinny as far as anatomically possible (ankle zips help). "We knew who was buying the jeans at the start. Itwas the fashion savvy girl. But aspirationally, we knew it would go more mass because what we saw was, when anyone tried on our jeans, she looked amazing. And who doesn't want to look amazing?"
The big thing, he says, is jeans are emotional in a manner perhaps only paralleled, for women, by shoes. "I always tell my team we are really selling an emotion. That's why women want to find a new great pair of jeans all the time, because if something can make you feel and look beautiful and feel sexy – not overtly sexy, but you feel confident and there are compliments – you can remember that."
It seems Australian women agree with that. "We want instant fashion that looks amazing, fits perfectly, is of superior quality and affordable; J Brand is at the fashion forefront," says Janine Edwards, head of Edwards Imports, which sells "literally, thousands" of J Brand jeans in Australia each year.
If you fly with fashion, you could die with fashion. Rudes showed considerable brinksmanship by halting the Houlihan juggernaut (search Houlihan on www.jbrandjeans.com and you simply get directed to the current hot style, no mention of discontinued or out of stock). He and his design team also took a punt on a daring combination: bright + skinny – not seen since the disco 80s. And when the catwalks got brighter, they were ready.
"I think it was fall 2010," Rudes says. "We had bright on our line but they weren't quite as bright. A light bulb went off and we did BRIGHT. You've gotta time it, you might have to store it, then you see how the designers are doing it and say 'we are going to be part of it'." But always, there's the emotion: "When a woman picks up something new, there has to be that trust, 'I know when I wear it, I look beautiful'."
Way back in the hippie era, denim was alternative, suits were evil. In terms of sustainability, the story hasn't quite panned out that way, given cotton is among the most rapacious crops in the world. Rudes faces the corporate social responsibility question with an honesty in admirable contrast to other jeans tsars, who waffle about interesting experiments making cloth out of nettles. "Organic cotton isn't the difference," he argues. "What is making a difference is we are transforming our laundries. Everybody is paying attention to the use of water and the chemicals that were being used around the world and should not be part of the manufacturing of jeans."
Also grabbing attention: advertising campaigns. No boys in their underpants in laundries anymore. J Brand's ad spend for 2012 topped US $1 million, including media buys in magazines such as Vanity Fair, French Vogue and style.com for slick pictures taken by Craig McDean. Yet for all Rudes' talk of elevating the jean, it is a mumsy style that has really rocked.
"It's mid-rise and it is in this soft twill gabardine," he defends the style that proved the royal Kate has even more kerching! than Kate Moss. "She wore a more conservative, let's say, skinny. It didn't really touch you at the ankle, it pulled away a little bit but it's sold A LOT," says Rudes,who, no, has not met her and, yes, she paid retail.
As for Sir Mick Jagger, when J Brand launched a men's line in 2008, it was with two styles, the skinny, called Mick, and the bootleg, called Clint. Eastwood wears them, too. "I always loved The Stones; it's kind of come full circle now that he is wearing them," says Rudes. "The call came for the lightest weight denim we make because of the way he moves on stage and has to be comfortable. So it's got a great stretch, it's paper-thin, seven ounces, our lightest weight women's fabric. We never thought of making a men's garment in that fabric, but when he suggested it, it completely made sense." J Brand got a credit in the souvenir tour programme.
That thing about fit? When I arrived in the offices, I passed a tall, handsome man. Nothing extraordinary there, plenty of good looking people here. Much later, Rudes is walking me out and we pass an open door and there he is again. "We use the human body," Rudes explains as the "fit model" nods hello. "It's about having great pattern-makers and the knowledge of what you want to do with the fit, technically, to make the bum look better and lift and shape it. "How long will he be here? "Maybe four more hours" says the guy. How often
is he here? "There's a bunch of us that do this. I'm here maybe three days a week."
One last thing. Rudes' "we will be seen as a fashion brand" billboard statement? It's already happened. As temperatures plummet during New York Fashion Week, clothing to suit an urban life proves a hit. "Women won't just be buying these clothes; they'll be wearing the hell out of them, too," trumpets style.com. Or perhaps "wearing the ass out of them". No, your bum doesn't look big in that.