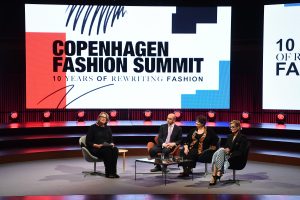 From Farm to Fashion…I moderated a passionate debate on the vast stage of Copenhagen's stunning Concert Hall.
Fashion's front line begins far from the front row. Your Saint Laurent sweater might begin thousands of kilometres away on a goat in the Gobi desert or on a sheep in the Australian Outback.
Fashion begins as an agricultural business.
Panelists; Dr Helen Crowley of Kering, La Rhea Pepper of Textile Exchange and Philip Lymbery of Compassion in World Farming discussed the need for transparency as to where fashion really begins, the need to protect biodiversity and wild species and broader issues of conservation.
The "take outs"; be more compassionate, become a storyteller – tell people the story of their clothes….and think before you buy another pair of socks!
Link to Day 1 highlights here: