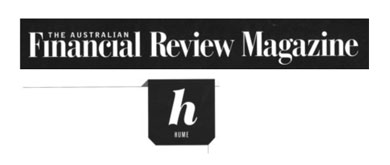 The AFR Magazine December 2010
Story by Marion Hume
What is old is new again, and the advantage for me, racking up fashion years (which multiply at twice the speed of dog years, by the way) is that I've been round this circuit before. What's the biggest trend right now? The seventies. Where did my fashion consciousness awake? Bliss was it in that dawn to be alive and wearing leg warmers.
In the 1980s, some fashion wag dubbed the '70s, "the decade that style forgot", which stuck, although it was wrong. In fact, the '70s were rich and diverse. In just ten years, I dressed my teens through hippy, glam rock, disco, punk and then, at last came chic, as captured with the ultimate '70s movie "American Gigolo" (it came out in 1980, but it was made in 1978).
Paul Schrader's movie, which opens with a scene that succeeds in making even the Los Angeles freeway look glorious, wasn't a hit in Kyoto, Japan or, if it was, Akira Isogawa – who despite still looking annoyingly youthful was very much alive in the '70s – managed to miss it.  So, on his recent trip to London, I felt duty-bound to re-rig the video recorder (how clever to have kept that hidden away) and soon we were listening to the soundtrack by Giorgio Moroder and I was trying quite hard not to sing along to Blondie's "Call Me".
Much has been made of the scene in which Richard Gere prances around like a latter-day dandy (or, to be accurate, just like the male hooker of the title role), matching "griege" shirts with beige ties as if that were hard.
This is the fashion world's no. 1. favourite movie clip and certainly, I will never forget watching it WITH Richard Gere (gray around the temples, even more handsome) at the Giorgio Armani retrospective at the Guggenheim in New York a few years' ago. When I say I watched it with Gere, there were only four people in a room at the museum in which the high points of Armani's movie successes were being projected on a vast screen. Alas, I must concede that Gere is unlikely to reminisce about me being there, but watching him watch himself was a thrill all the same.
But I realised, re-watching the celebrated scene with Isogawa instead that the familiar version has actually being clipped; this to omit the opening where Gere scrapes his finger through a mountain of cocaine and rubs it vigorously into his gums before he begins the Herculean task of working out what he's going to wear. Since 1978, there have been moments at Armani shows when a little lift would not have gone amiss, but despite all you hear about us drug-addled fashionistas, I've never seen anyone go that far since.
While Gere gets the glory, actually, it is Lauren Hutton who fascinates in the movie now.  Hutton began the '70s as both gap-toothed girl next door and the world's first supermodel and ended them (lucky her) kissing Gere and wearing satin blouses which look so utterly "now". While Gere's outfits changed menswear in what was then the future (think of a Hollywood agent in the '80s and you'll imagine him wearing a beige Armani suit), Hutton's outfits were a sartorial lament to a softness that was already disappearing and has taken 30 years to return. In between, womenswear has had a harder edge, starting with the "me me me" styles of the '80s.
Why is softness back? It's partly due to the achievements of a band of women who prefered dungarees when Hutton was wearing grey silk and who manned the barricades to fight for the equality we all now enjoy by law. Today's designers – many of them women – are, largely, the first generation to be the children of working mothers and they are working mothers themselves.
Hence the 70s looks at Celine, Chloe, McCartney. But who I wonder, is going to reissue the fabulous soft trench coat Hutton slips off in the movie? We'll have to wait for next season's shows for that.