2002
You are browsing the archive for 2002.
By Marion on December 15, 2002
'It gets so hot, you have to be up early to get things done,' says Mikhail Gherman as he secures a 10ft-tall white Christmas tree to the corrugated-iron roof of the 30s Deco house he shares with his wife, New Zealand's hippest designer, Karen Walker. 'The sun wakes us at dawn anyway because we don't have curtains,' says Karen, who numbers the actress Claire Danes and Shirley Manson of Garbage among her fashion fans.
Posted in 5. Travel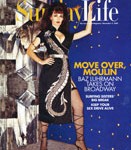 By Marion on November 1, 2002
Posted in 4. People | Leave a response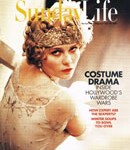 By Marion on June 22, 2002
Since Hollywood's earliest stars took our breath away in sumptuous goddess gowns, couturiers have been lining up for a share of the glamour. But the kudos that a movie can bring can also result in burst seams and broken promises, writes Marion Hume
Posted in 2. The Fashion Business | Leave a response